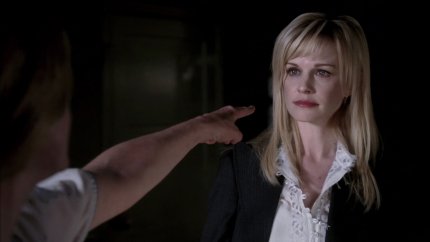 We only got to spend a brief time with Lilly Rush over the course of seven seasons of Cold Case.  In the course of that we didn't learn a huge amount about the lady herself.  One thing that was clear though, was that she did not have a lot of success in her personal relationships.
'Joseph', episode 23 of Cold Case season 3, showed us the very beginning of the latest and it was not a strong start.  Falling for a dead guy in a photo and then pointing a gun at the same man is hardly one you tell the grandkids.
The Joseph in question was thought to be a murder victim from a case just a year before.  Lilly manages to narrowly avoid dating a ghost by finding him alive.  She goes off the books a bit during the investigation, a fact that is noticed by Lieutenant Stillman.  We get the whole disappointed father/disgraced daughter thing.  This continues into the next season.
Bringing to an end our look back at Cold Case season 3 episode 15 years after they were first broadcast, we have a huge 460 (Full HD, 1080p) new screencaps in the Gallery.  It's a very Lilly-centric episode so there's lots of scenes to cover.