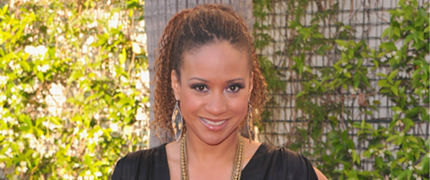 We all know Cold Case as starring Kathryn Morris.  It's why so many of you are on this site.  However, we can't forget that Kathryn was part of an ensemble cast that the show couldn't exist without.  This is the latest in KM UK's series of monthly posts, known as CCCC-up, looking at the on-going post-Cold Case careers of Tracie, Danny, Jeremy, John, and Thom.  Let's see what we've unearthed in the month of October.
Regular readers will know that Tracie Thoms (Kat Miller in CC) features a lot in this posts due her prodigious work rate.  It seems that barely a day goes by when she isn't performing somewhere.  Another frequent occurrence in these round-ups is a big story breaking soon after going to press.  Two days after September's CCCC-up news broke that Tracie would be starring in a new film called Straight Up.  James Sweeney writes and stars in this rom-com movie with Katie Findlay (The Carrie Diaries) about a gay man and his female soul-mate.  Filming is said to have already completed and taken place in LA.  Release date is as yet unknown.
Tracie's guest-starring role in the Fox TV multi-emergency service-based drama series 9-1-1 has continued this past month with several re-appearances as Karen Wilson.
Back in July's CCCC-up I predicted (with good reason) that the Hulu network drama called The First would be getting an outing here in the UK on our Channel 4.  In the past couple of weeks adverts have been broadcast for the series about the first manned mission to Mars.  Not sure if it is a clever bit of marketing or not, but the first episode of The First will be shown on the 1st (of November) on the first Channel 4 we have

  Sean Penn (Mystic River) and Brit Natascha McElhone (Californication) star.  Tracie is listed as being in four episodes of the 8 total.
I thought I'd missed this news but it looks like in the past couple of week it became known that the release date of the movie Ad Astra has slipped to May 2019.  The Brad Pitt (World War Z) sci-fi film was set to premiere in January but it has been pushed.  John Finn (John Stillman in CC) co-stars with Donald Sutherland (The Hunger Games), Tommy Lee Jones (The Fugitive), and Ruth Negga (Preacher).  It looks like the January date was not considered very good anyway and pre-Xmas release was expected to get it in a prime position ahead of the Oscars.  Commonsense has prevailed and late May is seen as a much more appropriate.
John's new role in the in long-running The Walking Dead series has continued through October.
Way back in September 2016 I first reported on John Finn starring in a film called Finding Steve McQueen.  Filming took place around that time too.  A premiere happened at the Monte Carlo Film Festival in March of 2017.  There is still no signs of a US general release but IMDb lists tomorrow (1st November) as a release in Portugal of all places.
In the same vain, the FX TV series Mayans MC, which is a sort of prequel to Sons Of Anarchy reached episode 9 just last night (30th Oct).  Danny Pino (Scotty Valens in CC) is a regular guest-star.