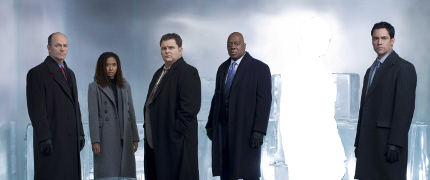 A slight change to our normal monthly round-up this time.  As well as a quick update on the latest news, this post will be the traditional end of year recap of the year's events.  Read on for the December 2018 edition of the KM UK CCCC-up, covering news on the main Cold Case cast other than Kathryn.
First up is Danny Pino (Scotty Valens in CC).  Back at the end of June KM UK pretty much led the media world in reporting on Danny joining the Netflix sitcom One Day At A Time.  We've recently seen photographic evidence of Danny's involvement from the upcoming 3rd season, which débuts on the 8th of February (it's an all-on-the-same-day drop of episodes).  Danny is starring as the brother of the main character, played by Justina Machado (Six Feet Under, Cold Case episode 'The Good Death'), in a recurring role.  Looks like the beautiful India de Beaufort (Kröd Mändoon And The Flaming Sword Of Fire, I just wanted to write that!) is also joining the cast for a few episodes as a 'love interest'.  Not for Danny's Tito, sadly for Danny.  Cleverly, the lucky man Avery is going to be involved with is a character played by the man lucky enough to be India's real-life husband.  How did they think of that?  Both Stephanie Beatriz and Melissa Fumero from Brooklyn Nine-Nine are also set to guest star, as well as Gloria Estefan.
In March we first reported (as opposed to reported first) that John Finn (John Stillman in CC) had filmed a role in a pilot for a new drama series called The Enemy Within.  The show was picked up to series a couple of months later.  One of the released publicity photos included John.  It has now been announced that NBC has planned the show for a 'mid-season' launch in late February.  Based on what happened to Reverie this year on the same network, maybe that should be taken with a pinch of salt.  Of course this year the Winter Olympics is not intruding on the schedules.  We don't yet know of John will recur beyond the pilot, or even if his character has even remained in what will become the first episode.
Now on to the look back to CCCC-ups in 2018.