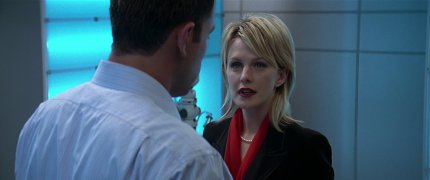 What better way to get over those winter blues than a nice Paycheck?  😉
A regular one is nice too.  The BBC seem to have dropped into an 8 month cycle with the John Woo sci-fi action drama Paycheck as it was back in May 2016 when they last broadcast it.  Before that is was September 2015.  At this rate we can book in for another viewing next September.  By then we'll definitely need the memory wiping technology the film uses.  With luck it'll be in mass production by then…
It's a late one this time, or may be very early.  Hence the 'Saturday/Sunday' subject.  00:25/12:25am may be technically very early on Sunday morning but to all right thinking people it's still just quite late on Saturday night.  Unless, on this occasion you are in Scotland.  Sorry to our north of the border friends.  No Paycheck for you.  The BBC's website has details of the broadcast.
As you'll no doubt know by now Kathryn's role is quite short in this film.  She's an important part of setting up the premise in those opening 10 minutes though.  The unforgettable performance by her Rita Dunne proves the memory wiping device works.  It would take a significant medical procedure to remove what is etched onto our brains 

KM UK being as comprehensive as it is will mean it is no surprise that the KM UK Gallery already cover the film is some detail already.
Time (pun very much intended) for a classic KM UK countdown timer to the start of the Paycheck broadcast on BBC1 this weekend.