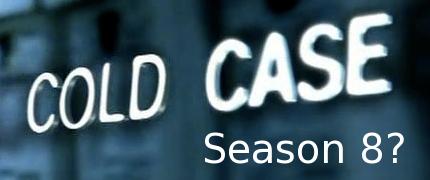 Another KM UK Exclusive:  We could be seeing a new season of Cold Case next year!
There has been a move in recent years away from the 20+ episode-long seasons for TV series.  Increasingly new series are being done as short 6-13 episode 'event' runs.  Streaming services such as Netflix and Amazon have driven this trend and traditional broadcasters are realising that attention spans are dropping.  Viewers don't want to spend 9 months wading through 24 episodes, or episodes of 24, any more.
Another side to this has been using the format to bring back old favourites to our screens.  The key cast don't want to commit to a full season worth of work and there is more fanfare with an 'event series' of a treasured oldie.  More bang for the buck.  Already this year we've seen a six episode-long 10th season of geek favourite The X-Files and later Prison Break will be back after going off air in 2009.  Both are on the Fox network
CBS has seen the success of these shows and wants a piece of the action for itself.  KM UK has just discovered that the network has made Cold Case a front runner to be restarted for a special season.
Unlike traditional 'crime of the week' Cold Case the thinking is that a new 10 episode season would be based around a longer story arc.  Effectively one case throughout, with smaller side cases filling in each episode.  Of course, Cold Case has tried longer stories spread across multiple episodes before but this time they intend on seeing it out to the bitter end.  It won't disappear after just a few episodes, never to be mentioned again.
Currently Cold Case: Reheated, as it might be called, has the working title of Hunt The Gowk.  Bizarre, but it apparently relates to the story being told.  It will set in 2017 so things will have moved on from when Cold Case came to an end in 2010.  What are Rush and Valens up to now?  Are Stillman, Vera and Jeffries still around?  Is Miller running the precinct?
New series producer Sizdah Bedar has said they want to have as many of the original main characters as they can and if possible bring back some fan favourite criminals.  They have been in jail for quite a long time now.  New, younger homicide detectives could also be drafted in to bolster the ageing squad.  Shailene Woodley (Big Little Lies) is being courted to revive her Amish girl character from Running Around (Cold Case s05e03) as a junior police officer who becomes heavily involved in the story.  There could be a Cold Case: TNG spin-off for her if it goes well.
All the original main cast members are said to be up for this.  Danny Pino's return to the CBS fold for BrainDead was key to making a revival possible.  He will be free after that show ends production this spring.
Even more importantly Kathryn will also be free this autumn once the second season of Colony has finished filming over the summer.
Pre-production has only just started but expect to see Cold Case: Reheated around this time next year, very early in April.
Update:  I'm sure you've all worked out that this was my annual attempt to surprise and slightly amuse for April Fool's day.