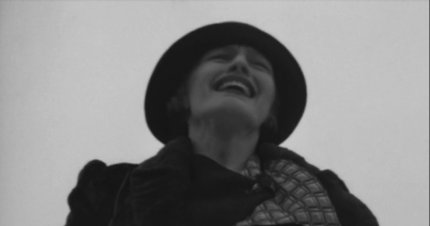 Sometimes you don't get the credit you deserve.  Sometimes someone takes credit for your work.  And then there's the film business, where you get the credit but somehow it is still not you.
All of which fits in so very well with the topic of the film we are going to talk about here.

Stand-ins is a 1997 film starring Jordan Ladd (Death Proof), Daphne Zuniga (Spaceballs), and Katherine Heigl (Grey's Anatomy).  It is very play-like with just a small number of characters mostly in a single setting.  Our leading ladies are in fact not leading ladies.  They are movie stand-ins, look-alikes that take the place of the real stars for parts that don't clearly identify the person, such as an over the shoulder camera shot.  Think stunt performer but less dangerous.
The story is set in the 1930s in what is often called the Golden Age of Cinema.  It centres around a meeting of a group of these stand-ins at a birthday celebration for one of them.  Each of them had dreams of making it big in Hollywood but has found themselves in this anonymous profession standing-in for the likes of Greta Garbo, Rita Hayworth, Bette Davis, Jean Harlow, and Marlene Detrich.  The audiences sees them all the time but doesn't know them at all.

Kathryn, mis-credited as Katherine Morris (perhaps they just copied Ms. Heigl's spelling), is only in the very first couple of minutes of this one.  She doesn't have any lines as such, just some grunting and crying.  Kathryn plays a 'legitimate actress', unlike our leads.  I'm not sure what the implications of stating the actor or the films they star in are 'legit'.  The mind boggles.  A shown news article (typo-ridden headline and all) says that her character, Lillian 'Peg' Entwhistle, killed herself by jumping off the Hollywood sign.  I think Kathryn could legitimately claim a stunt acting credit as well for climbing a frame structure in uncomfortable and inappropriate shoes, and a skirt.
I feel like we've finally been able to give Kathryn the credit for this one, as it has passed largely unnoticed for so many years.

On KM UK we definitely do our best to give credit where it is due.  We very much stand on the shoulders of giants and benefit from other's generosity.  In this case the credit goes to Mel Smith.  Recently, Mel very kindly reached out to me about Kathryn being in this film.  I was sceptical but checked it out and was happy to find out it was true.  Over the years I'd stumbled across places suggesting Kathryn was in this film but have been burnt too often.  The name was spelt differently and by the projects 1997 release, Kathryn's career was reasonably well established, even allowing for a year or so ahead of then for the filming to have actually taken place.  Only one site I've found has linked the mis-credit to Kathryn.  I've submitted a correction to IMDb about this, though they have yet to correct the obvious error over Malibu Hot Summer (aka Sizzle Beach USA) so I'm not holding my breath on this one.
Stand-ins is available on various video platforms including Amazon Prime, and DVD in some territories.  The Amazon US page with a video of the opening sequence, and a link to Prime version, is HERE.
There are a small collection of screencaps and a short video clip from Stand-ins now in the Gallery.