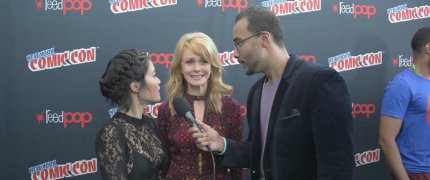 A couple of weeks on from the New York Comic Con we still seeing content released from it.

The latest is a video of Greg Bernard of Entertain Lynx putting a few questions to Kathryn Morris and Jessica on the red carpet.  The two ladies, 'Jess and Kat', were promoting the upcoming TV series Reverie.
It's all a bit of silly fun.  Jessica is clearly a bad influence on our Kathryn as she drops the 'b' word

  We don't get to learn much about the show except that Kathryn's DoD staffer Monica Shaw bullies Jessica's software engineer Alexis Barrett.
Watch the video in full on YouTube HERE.
A small version of the video and a set of HD screencaps are now in the KM UK Gallery.