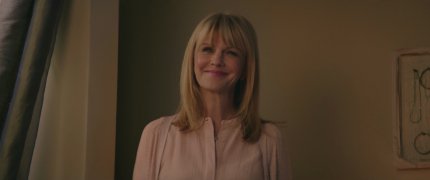 You get me every time!
Turns out the rumours were not entirely true.  Fortunately for we Kathryn-fans the one about her being in You Get Me was a good one.
About 40 minutes into the teen drama it is revealed that the mother, Mrs Hewitt to you, of one of the main characters was the one and only Kathryn.  In she walked to the bedroom of her daughter (Halston Sage as Alison) and found her with the psycho of the piece (Bella Thorne as Holly).  They chat briefly and Mrs H leaves them to it.
Other than a few wide shots of the house the Hewitts live in showing them moving around through the largely glass outer walls that's pretty much it for Kathryn's role.
On the plus side she looks lovely (see above) and we get some nice smiles (see above).  The smile and slight bowing of her head as she leaves the girls alone reminded me of the blushing Lilly Rush when ADA Kite managed to embarrass her with a display of affection.  She's still got it!  Awwww 

The not-so true rumour involved NCIS star Jennifer Esposito.  She definitely was not in the movie.  The character she was linked to, Corinne, was the mother Holly.  The role was instead taken by Brigid Brannagh (Army Wives), who was clearly a better match to Bella's looks with their Irish heritages.
You can now find a small collection of full HD (1080p) screencaps of Kathryn in You Get Me in the KM UK Gallery HERE.  I've thrown in another variant on the poster as well.