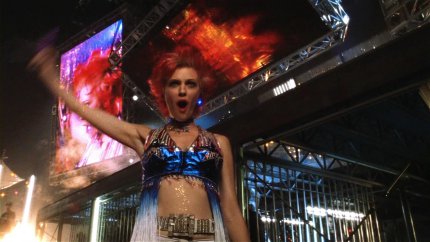 After the excitement of the weekend's new photos of Kathryn in the forthcoming movie Bone Tomahawk, we return to the more prosaic.
The latest of our Media Alerts, which primarily cover showings of Kathryn's work on national television in the UK, is for another showing of A.I. Artificial Intelligence on the BBC.
The film makes a return to the main One channel, this time at 11:15pm on Friday (31st July).
February's showing seemed to be timed to coincide with the cinema release of the movie Ex Machina, which also dealt with the issue of humans relating to highly sophisticated robots that mimic humans emotions.   The UK DVD was launched a few months ago so this TV showing of A.I. is not linked to that.  Perhaps its a reference to the show Humans on Channel 4, which is a UK/US co-production re-make of the Swedish drama Real Humans (aka Äkta människor).  More life-like robots and their impact on real people.  That series comes to an end next weekend.
The BBC website's page about A.I. Artificial Intelligence is here.
Screencaps and a video clip of Kathryn's performance in A.I. can be found in the Gallery.