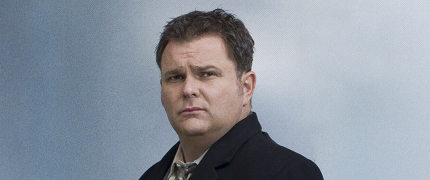 The nights are starting to draw in.  Summer is definitely over.  Instead of running about outside settle in and read about the continuing careers of the Cold Case cast that aren't Kathryn in September 2017's Cold Case Cast Catch-up.
In the August CCCC-up I mentioned Jeremy Ratchford (Nick Vera in CC) appearing in a short film called Radio 88.  We had hint that the film would be premièred in mid-September at a film festival.  That may or may not have been correct.  However, on the 18th of September the 11 minute film was made available on YouTube as part of a promotion for a new very high definition Panasonic camera.  You can watch it in full HERE.  The cinematographer/producer Johnny Derango (Small Time Crime also starring Jeremy) is key to the film, hence the link to the camera equipment.  The story involves a young woman (Cyrina Fiallo, Temporary) making the final broadcast of a small radio station created by her father (Jeremy) and an equally young English man (Paul Holowaty, Hollyoaks) trying to see her again and get his record played.
It is not a promotion for a European hatchback car, it's a movie by James Gray (Lost City Of Z) and it stars John Finn (John Stillman in CC).  The Brad Pitt (Lost City Of Z) starring sci-fi epic Ad Astra has been given a release date.  You've got plenty of time to save your pennies for a cinema ticket because that date, in the US at least, is the 11th of January 2019.  That makes it a futuristic film, I guess

  Brad (we're on first name terms) plays an Army Corps engineer looking for his long-missing father.  Mr Tommy Lee Jones (Men In Black) is the man lost on an mission to find aliens 20 years previously.  Ruth Negga (Preacher), Donald Sutherland (The Hunger Games), and Jamie Kennedy (The Hunger Games) also star.  James Gray is directing and co-wrote the feature.
Tracie Thoms (Kat Miller in CC) made her promised return as Monica Walker in Criminal Minds just a few days ago now.  It sounds like it might have been a really emotional one.  In the previous season finale Tracie starred as the wife of one of the main characters.  The dropping of that actor from the show meant he wasn't going to be coming back.  This première episode of the 13th season dealt with that.  As we know a character key in a major plot development in a top rated TV show is not enough for Tracie.  That's a Wednesday for constantly working Tracie.  Next up is another short film.  This one is called Top Ramen, a 20 minute drama about two girls forced to look after themselves when their mother (presumably Tracie) is arrested at a protest demonstration.  Long-time TV producer, mostly of reality shows like Hell's Kitchen, Rebecca Hertz is making her directing debut with Top Ramen.  No news on a release yet.  If that wasn't enough Tracie spent a couple of days at Dartmouth to star in a performance of Antigone In Ferguson.  The piece is a series of dramatic readings and gospel songs about the shooting by police in Ferguson, Missouri of Michael Brown in 2014.  The text is from the original 2,500 year old tragedy Antigone by Sophocles, which has plenty of parallels with more recent events.  Tracie spent time with students at Dartmouth College after performing.  Of course that is not enough for Tracie, oh no.  A YouTube video of Tracie and others performing a cover of the P!nk (is that right?) song Dear Mr President was posted the other day.  You can watch it HERE.