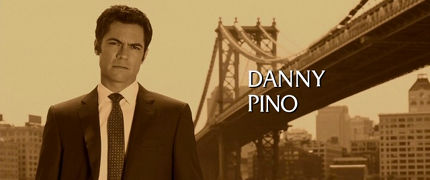 Things are heating up in the UK and they haven't exactly gone cold in the showbiz news front either.  KM UK's CCCC-up for June 2019 is a busy one for members of the Cold Case cast that aren't Kathryn.
Mayans M.C. is coming back.  The spin-off from Sons Of Anarchy returns to the FX network airways on September the 3rd (a Tuesday), which is now less than 10 weeks away.  Danny Pino (Scotty Valens in CC) is set to reprise his role of Miguel Galindo.  Those attending the San Diego Comic-Con in a month's time will be able to see a sneak peak of season two on the Sunday (21st July) afternoon.
Earlier this year Danny did a guest starring appearance (covered in December's CCCC-up) in a couple of episodes of the Netflix show One Day At A Time.  Not long after that the series cancellation was announced.  The events were unrelated I'm sure.  In what is being described as the first case ever of a show leaving a streaming service and moving to cable television, ODAAT has been picked up by Pop TV.  The cable network has ordered a fourth season to air next year.  Netflix will still host seasons 1 to 3 but Pop will also be able to broadcast them.  In an interesting twist Pop TV is owned by the large CBS network.  This means that ODAAT season 4 will likely get a network TV showing later next year.  At this stage there is no news on whether Danny's Tito will make a return.  We'll take it one day at…
July 2017.  Remember then?  That was when the CCCC-up first made mention of Ad Astra.  No not a car commercial (I must have made that "joke" before!), but a sci-fi movie starring Brad Pitt (Moneyball), Tommy Lee Jones (Men in Black), Liv Tyler (Armageddon), Donald Sutherland (The Hunger Games), Ruth Negga (Agents of S.H.I.E.L.D.) and John Finn (John Stillman in CC).  The wheels of Hollywood often turn slowly.  Two trailers for the film have been released this past month see them on YouTube HERE and HERE.  John features in both.  He's the first voice you hear in the second clip.
Speaking of voices, the Roger Ailes bio-series The Loudest Voice is due to start today (30th June) on the Showtime network.  If the info is correct John features in the first episode.
We've got this far without mentioning Tracie Thoms (Kat Miller in CC).  That ends now.
In movie news Tracie is starring in a new rom-com called Back To Lyla.  The plot involves a young man setting out to find his old friends after receiving a terminal diagnosis.  As Tracie's character is titled Dr Nolan I'm tempted to say her role is relatively small and in the first part of the film.  Hey, I can put 2 and 2 together and come up with approximately 4.  Emma Kenney (Shameless) and Hassie Harrison (Tacoma FD) star in the director America Young (Barbie Dreamhouse Adventures) directed and Guillermo Noriega (Confetti) written movie.  The project only finished filming a few weeks ago so we have no news yet on a release date.
KM UK first referenced Straight Up back in October of last year.  It's a movie in which Tracie dons the stethoscope and white coat again, this time as Dr Larson.  James Sweeney gets all selfish by writing, directing and starring in this rom-com with Katie Findlay (The Carrie Diaries) playing the other half of the love line (it's not a triangle).  The twist being that Todd is gay.  The film had its première last week at the Frameline Festival, which is an LGBTQ+ film festival, held in San Francisco.  It will be out Outfest in July.  No signs of a wider release date at this time.
Just occasionally we step outside the usual additional cast to look at some other key people connect with Cold Case.  One of them is Veena Sud, producer and writer on the show, who went on to do the same things on The Killing.  Veena has joined something called Quibi, a mobile video service backed by Jeff Katzenberg (DreamWorks co-founder), that has already signed-up such talents as Steven Spielberg (Jaws), Steven Soderbergh (Traffic), Anna Kendrick (Pitch Perfect), Donal Logue (Gotham), Chrissy Teigen (Hotel Transylvania 3: A Monster Vacation), Don Cheadle (House Of Lies), Emily Mortimer (Mary Poppins Returns), and Paul Feig (Bridesmaids) to make on projects.