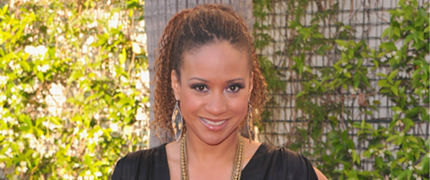 "Previously on…"  April's CCCC-up was looking like a struggle to find anything to post about.  We did OK though.  That's nothing compared to this month.  Yes, May 2019's news round-up from the careers of the other members of the Cold Case cast could well be slim pickings indeed.  Read on.
Much of the news we report on regarding Tracie Thoms (Kat Miller in CC) is not about her work in front of the camera, but her work treading the boards.  It has been announced that Tracie will be taking to the stage again at the end of June will star in Working: A Musical.  The show is based on a 1974 book by Louis "Studs" Terkel and looks at every day workers and what that work means to them.  Helen Hunt (Twister) is amongst the cast and Lin-Manuel Miranda (Hamilton) has contributed two new songs to the updated production.  The New York City Center hosts the musical for 4 days from the 26th of June.  The afternoon performance on the 29th will be followed by a Q&A by the cast and crew.
As mentioned last month Tracie reprised her guest starring role in the Fox network emergency service drama series 9-1-1.  Contrary to some sources the show, as reported on KMUK last time, aired on the 13th of May.  Looks like her character (Karen) and her wife (Aisha Hinds' Henrietta) had a major family decision to make.
In John Finn (John Stillman in CC) news last month we linked to the first trailer released for the new Showtime series about the late Fox News creator Roger Ailes.  Due for a June 30th start, a second more lengthy trailer has been made available.  No sign of John in this one either.  His role is likely to be quite small, and if the info on IMDb is accurate he may only be in the first episode.  The show has lots of big names in it including Russell Crowe (A Beautiful Mind), Naomi Watts (Tank Girl), Seth McFarlane (American Dad), and Sienna Miller (Layer Cake).  View the new trailer HERE.