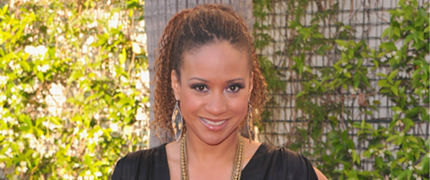 August can be a limited month for showbiz news.  Lots of people are on holiday, the blockbuster movies have largely come and gone, and the TV series are well into production for the autumn/fall start.  We'll do what we can though for our latest CCCC-up, covering careers of the other Cold Case cast members.
It has been a couple of months since we put Tracie Thoms (Kat Miller in CC) front and centre, in fact she didn't even feature last month (I though hell had frozen over!), so we'll put that right.
Panic over, emergency service cross-over show 9-1-1 is due to return on the Fox network on 23rd September 2019.  According to IMDb, Tracie is slated to be in the season 3 première.  Whether that is true or not we'll no doubt find out closer to the time when official press releases are published.  Based on the promo video (watch it HERE) the panic is just starting and Tracie will need her armbands and rubber ring.  Get out of the water!  It's amazing to think that just a few years ago a production like that first episode, with all the computer graphics etc. required, would have the preserve of a high-budget movie but can now be done on a television series.
We ended our June CCCC-up Tracie news talking about a rom-com movie called Straight Up.  The film had just premièred at the LGBTQ+ focused Frameline Festival and was heading to the Outfest event in July.  As said at the time, no further distribution had been arranged.  Early this month the new broke that Strand Releasing has acquired the rights to screen the film in US cinemas.  A somewhat vague 'spring of next year' is the currently expected time of a theatrical release for Straight Up.
John Finn (John Stillman in CC) has been featured an unusually large amount in recent CCCC-ups as we head rapidly towards the mid-September release of the new Brad Pitt space epic Ad Astra.  The film had its premiere at the Venice Film Festival two days ago (29th August 2019).  There are a number of reviews of it out there already.  The main thrust of the appraisals I've skimmed through are that, for all its huge interstellar dramatics, this is really a small film about a man and his relationship with his father.  Talking of hugeness, the IMAX trailer for Ad Astra has been released and you can experience that immersive grandeur HERE on your non-IMAX mobilephone or laptop via YouTube!  Despite including additional footage compared to the previous trailers (see older CCCC-ups) John does not feature this time.