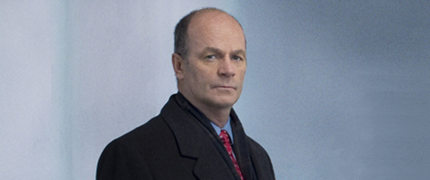 The boss is back.
Another update on the careers of the members of the Cold Cast cast that aren't Kathryn.
John Finn (Lt. Stillman in Cold Case) was a guest star in the most recently broadcast episode (number 7 of season 2) of the hit US drama series Homeland.  At the moment we can't comment on the exact nature of John's role because it won't be broadcast in the UK until Sunday (18th November 2012).  Cold Case creator Meredith Stiehm wrote this one, which may help explain John's appearance.  As in many walks of life, in Hollywood it's who you know.  Let's hope that that extends to Kathryn sometime soon.  John's other recent project, Cold Case writer/producer Liz Garcia's movie The Lifeguard starring Kristen Bell, is in post-production and due for release next year.  Stretching the scope of the CCCC-up to beyond breaking-point KM UK offers congratulations to Kristen Bell (she was the star of our first April Fool, that's our excuse and we're sticking to it

) on her recently announced pregnancy.
Speaking, as we were, of Meredith Stiehm and again stepping outside of the normal CCCC-up bounds, Meredith's adaptation of the Scandinavian drama series The Bridge continues apace.  Ted Levine (Monk) and Matthew Lillard (Scooby-Doo) have joined Diane Kruger (Inglorious Basterds) in the cast.  It is currently described on IMDb as a TV movie, so that probably means a feature length pilot has been ordered.  If it goes well then a series could be commissioned.