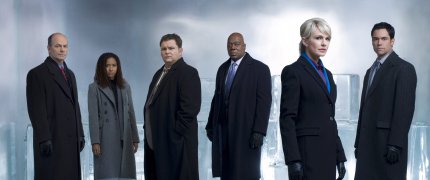 Another quick round-up of what is going on in the careers of the non-Kathryn members of the Cold Case cast.
Quite a lot has happened since our last update in February.
As covered previously Law & Order: SVU has been renewed for a 14th season so Danny Pino (Scotty Valens on Cold Case) will be returning as Detective Nick Amaro for his second season.  The final episode of Danny's first season aired last night (23rd May 2012) in America.  I won't be doing any further screencaps of Danny in L&O:SVU as our friends at Danny Pino Online are doing a great job of covering it.
In the last of these type of updates I mentioned that the multi-talented Tracie Thoms (Kat Miller on Cold Case) was due to star in a big film due out in September.  A trailer has been released for that film, Looper, and it actually has Tracie in it.  It is a very brief of as she, a waitress in a diner, gives Joseph Gordon-Levitt (Inception) an "oh la la".  Whether Tracie's role extends much beyond that is not known at this stage.  She is reasonably high up the cast list on IMDb and her character has a name: Beatrix.  Both of which are a step up from Safe House for her.  You can see a copy of the trailer HERE on YouTube.  Tracie appears at the 36 second mark.