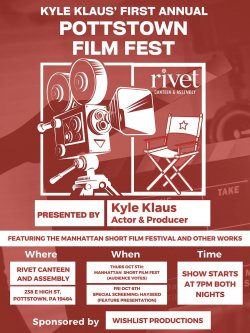 The movie Hayseed will be featuring at the first ever Pottstown Film Fest later this week.
The event is two days long, with the opening night being dedicated to short films.  Hayseed closes out the second evening of entertainment.
For those that don't know, and their can't be many of you, Pottstown is a borough of Montgomery County, Pennsylvania in the US of A.  All of you Cold Case fans really should know this as it is around 30 miles (45km) outside Philadelphia

The film festival is the brain child of actor and Pottstown native, Kyle Klaus.  He both acted in and is a producer on Hayseed.  The festival is part of the Manhattan Short 2023 event which, despite the name, takes place in venue all over America.
Kyle's previous acting credits include drama the series The Blacklist and FBI.  He is starring in an upcoming movie called Ballad Of A Hustler, due to première in a Brazilian film festival next week, and a short film called Roundabout which opens an upcoming film festival in Pottstown.
Hang on a minute!!!  You mean this man has created a new film festival in his home town and the first and last films to feature are ones he is in!?  Fair play to the man.
Not surprisingly Kyle will be making an appearance at his own festival, notably in a Q&A with Hayseed writer/director Travis Burgess after the film's screening on Friday night.
More details about the '1st annual' Pottstown Film Fest on the Event Brite site HERE.