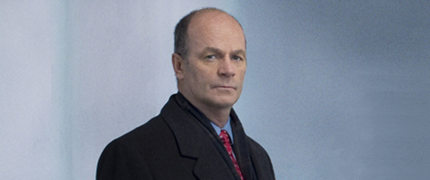 The boss is back.
Another update on the careers of the members of the Cold Cast cast that aren't Kathryn.
John Finn (Lt. Stillman in Cold Case) was a guest star in the most recently broadcast episode (number 7 of season 2) of the hit US drama series Homeland.  At the moment we can't comment on the exact nature of John's role because it won't be broadcast in the UK until Sunday (18th November 2012).  Cold Case creator Meredith Stiehm wrote this one, which may help explain John's appearance.  As in many walks of life, in Hollywood it's who you know.  Let's hope that that extends to Kathryn sometime soon.  John's other recent project, Cold Case writer/producer Liz Garcia's movie The Lifeguard starring Kristen Bell, is in post-production and due for release next year.  Stretching the scope of the CCCC-up to beyond breaking-point KM UK offers congratulations to Kristen Bell (she was the star of our first April Fool, that's our excuse and we're sticking to it

) on her recently announced pregnancy.
Speaking, as we were, of Meredith Stiehm and again stepping outside of the normal CCCC-up bounds, Meredith's adaptation of the Scandinavian drama series The Bridge continues apace.  Ted Levine (Monk) and Matthew Lillard (Scooby-Doo) have joined Diane Kruger (Inglorious Basterds) in the cast.  It is currently described on IMDb as a TV movie, so that probably means a feature length pilot has been ordered.  If it goes well then a series could be commissioned.

Jeremy Ratchford (Nick Vera in Cold Case) is also guest starring in a hit series very soon.  This time it's the Danny DeVito comedy It's Always Sunny In Philadelphia.  Jeremy is playing a…. wait for it…. detective (no typecasting there then!) in the ninth episode of the latest season (number 8) due for broadcast in the US on the 13th of December 2012.
In the past week Tracie Thoms (Kat Miller in Cold Case) has starred in a 24 Hour Play production.  As the name suggests a group of writers, directors and actors create and perform a brand new play in just 24 hours.  Sounds scary, but if Tracie's Tweets are anything to go by she enjoyed the experience.  Despite lots of updates on their Facebook page the Raze movie, which Tracie filmed earlier this year, has not yet gained a release date.  Tracie appears to have another new film due next year which is currently in post-production.  The movie is called McCanick and is about a police office trying to track down a recently released from jail minor criminal.  McCanick/mechanic, get it?  Me neither.  His reasons for this are not clear.  The name 'Sister Alice' is all that is known of Tracie's role at the moment.  Are you thinking 'nun' too?  McCanick stars David Morse (Green Mile) as McCanick, Maura Tierney (E.R.) and Ciarán Hinds (Game Of Thrones) amongst others.  McCanick was shot in Philadelphia, taking Tracie back to her old stomping ground.
We have nothing new regarding Danny Pino (Scotty Valens in Cold Case) except the continued success of the latest season of Law & Order: SVU.  It doesn't appear that the recent "Super Storm" Sandy has affected production of the show.
There is even less to add on Thom Barry.  The Texas Chainsaw 3D movie is still set for a release in early 2013 across much of the world.
If you have any news about any of the Cold Case main cast then please let us know.