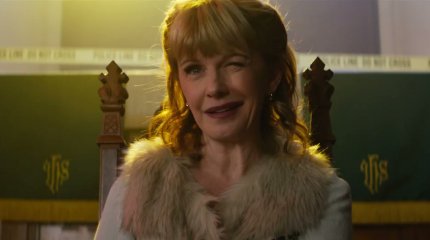 Distributor DYNMC Films have released an official trailer for the movie Hayseed ahead of a limited cinematic run and a date for the film to made available via streaming.  It's all go-go-go on the Hayseed front.
After a sold out screening on in Brooklyn, New York, here are a set of dates and locations for the limited theatrical release of Hayseed:
7th Nov, Los Angeles, CA – Laemmle Royal
8th Nov, Los Angeles, CA – Laemmle NoHo 7
13th Nov, Detroit, MI – Emagine Royal Oak
14th Nov, Ann Arbor, MI – Emagine Saline
15th Nov, Lansing, MI – Celebration Cinema
16th Nov, Grand Rapids, MI – Wealthy Theatre
21st Nov, New York, NY – Village East by Angelika
That second one is in bold for a reason.  Kathryn and her co-star Marta Piekarz (Queer As Folk) are due to attend a Q&A at the Laemmle NoHo7 event on the 8th in Los Angeles.  Looks like it is a 7pm start time for the screening.
What's more the film is due to get what is being called a 'digital release' on the 21st November.  Presumably this is on streaming platforms, though which is not clear yet.
You can watch the official Hayseed release trailer on YouTube HERE.
A handful of screencaps from the trailer have been added to the Gallery.  They are very similar to the previous trailer we covered but with better picture quality.  There is also a very high resolution still and new posters.