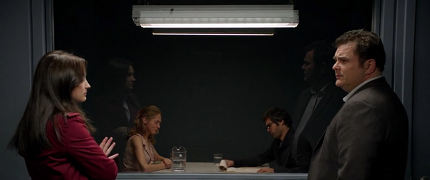 Another quick round-up of what is going on in the careers of the non-Kathryn members of the Cold Case cast since our last one of these in May.
Let's start with Jeremy Ratchford (aka Nick Vera in Cold Case) for a change.  In that last update we noted that Mr Ratchford had made a very brief appearance in a promo video for the new TNT show Perception, starring Rachael Leigh Cook (Josie And The Pussycats and She's All That) and Eric McCormack (Will & Grace).  At the time it was not clear whether Jeremy would be a show regular or a one-off guest star.  It could have gone either way.  The first episode involved FBI Agent Kate Moretti (Rachael) coming back to the city she spent much of her life in and she picked up a case of a certain Detective Hammond's, Jeremy in a very Vera-like role.  The show could easily have been about Kate and Daniel (Eric) doing the same thing with Hammond on a regular basis but, as far as I am aware, it hasn't happened again.  Det. Hammond has not reappeared in any episodes since.  Though having established a character like that in the show's "universe" it could happen.  As an aside, the most recent episode of Perception used the building exterior Cold Case used for the Philadelphia Police Department as a Chicago hospital.  It was once a bank in an episode of Castle.  I presume that is is actually in LA somewhere.
The lovely Tracie Thoms has been a very busy lady these past couple of months and she certainly likes to mix things up.  In mid-July Tracie was did play that ran for three days in New York.  It was called The House That Will Not Stand, Marcus Gardley wrote it, Marion McClinton directed it.  Set in 1830s New Orleans the play was centred on a woman and her three daughters dealing with the loss of a loved one.  In a complete contrast to that Tracie has made a movie called Raze.  It sounds like a sort of cross between The Hunger Games and Saw.  A group of kidnapped women are forced to fight each other to the death for the entertainment of a select few.  It's not a comedy.  Co-stars include stunt woman Zoë Bell (Lost), Rachel Nichols (Resurrecting the Champ, G.I. Joe), and Sherilyn Fenn (Twin Peaks).  The release date is not known at this time.  You can read more about it on the film's website.  The major film that Tracie has a (we assume) small role in Looper will be getting a gala world première at the Toronto International Film Festival in early September, with general release following a few weeks later.  At the event last year a certain little film called Moneyball received its gala première.  At least Tracie has appeared, albeit very briefly, in the trailer for Looper so she stands a good chance of making the final cut.  Looper stars Joseph Gordon-Levitt (3rd Rock from the Sun, Inception), Bruce Willis (Die Hard) and Emily Blunt (The Devil Wears Prada,  The Muppets) in a plot involving time-travelling hit-men.
A few weeks ago Danny Pino started filming for the 14th season of Law & Order: Special Victims Unit.  New episodes are due to start airing in a special two hour première on the 26th of September 2012.  Check out our friends at Danny Pino Online for the latest on everything Pino.
John Finn made his previously reported appearance on the USA network's Suits in the middle of July.  No further projects have been announced.  Things have been even quieter on the Thom Barry front with no news on work for him.
We normally contain this posts to just the main cast of Cold Case but this time we'll be extending our reach a little further.
Post-Cold Case Veena Sud (writer, producer and exective producer on Cold Case) went on to make another successful cop show The Killing.  Veena wrote, directed and executive produced the new show, which was based on a Danish programme.  Sadly its cancellation after just two seasons was recently announced.  Update:  Veena is apparently on a shortlist of four to write a movie adaptation of the hit book Fifty Shades Of Grey.  I don't know the book at all, is there a role that would suit Kathryn?
On a related note Meredith Stiehm, the creator of Cold Case, and writer Elwood Reid (8 episodes of CC) are creating a "new" show pilot for the FX network.  I say "new" because it is another American remake of a Scandinavian drama.  This one is called The Bridge.  Rather than being about the case of a body found exactly on the border between Denmark and Sweden, that line being located on the titular bridge, the remake will use the America-Mexico border.
Bringing us to a close is news of Liz Garcia, another writer/producer on Cold Case.  She is writing/directing/producing a new movie with KM UK's 2010 April Fool replacement for Kathryn in Cold Case: Kristen Bell.  In this new dark drama called The Lifeguard, Bell's character undertakes a major career change to become… you'll never guess what…
If you have any news about any of the Cold Case main cast then please let us know.