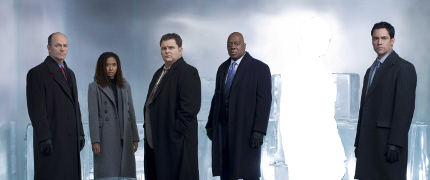 Today (at time of posting) is the last day of 2020 and I think it is fair to say "good riddance".  However, before we finally wish a less-than-fond farewell to the year we get to do a traditional annual look-back round-up of the Cold Case Catch-up posts from the past 11 months.
First up we need to cover any updates on the on-going careers of the non-Kathryn Cold Case cast from December.
Let us start with Danny Pino (Scotty Valens in CC) and his film work.  In August we talked about the film Fatale, starring Michael Ealy (The Perfect Guy) and Hilary Swank (Million Dollar Baby).  The thriller involves Ealy as a man caught up in a situation with a vengeful police office (Swank) who isn't going to let things go, Fatal Attraction-style.  Danny plays the politician ex-husband of the cop who she is also making suffer.  There's lot of opposite stuff going on here.  In The Perfect Guy, Ealy was the stalker.  Hillary is not often cast in the 'bad guy' role.  Danny is not the cop (he did play a politician in the wonderful but shortlived BrainDead).  The film received a limited theatrical release in North America on December the 18th, and is expected to go to video on demand services in January.  A trailer for the movie can be seen on YouTube HERE.
Nothing to add for Tracie Thoms (Kat Millar on CC) on the TV/movie front for December.  Tracie has been active in online videos though.  We have her in an Zoom-based spelling bee early in the month on Facebook HERE and a campaign to encourage everyone (eligible) to vote in the upcoming Georgia state Senate run-off election.  A variety of Broadway stars have gathered (virtually) to perform the song 'Georgia On My Mind' for the group Fair Fight Action.  Included in the large number of singers involved are Lin-Manuel Miranda, Vanessa Williams, Bellamy Young, Josh Gad, Billy Porter, and Rosie Perez.  You can watch a version of the released single on YouTube HERE.
Several years ago One Tree Hill stars James Lafferty and Stephen Colletti set about putting together a comedy drama about two ex-stars of a once hit show trying to find their way back to the same levels of same fame.  This show, Everyone Is Doing Great, has been in the works for a while.  The two stars wrote and directed the series, they also spent a long time trying to get funding to make the show.  In 2018 and 2019 some element (possibly a pilot) was shown at a few festivals.  A few weeks ago it was announced that the streaming service Hulu had picked up the series and would make it available from the 13th of January 2021.  The reason we're mentioning Everyone Is Doing Great here in the CCCC-up is because Jeremy Ratchford (Nick Vera in CC) is guest starring in an episode, number 6 if the details are correct.  The fact that his character shares a last name with one of the main characters suggests a family relationship (father?) but I don't have more than that.  Hulu has released a trailer for the show on YouTube HERE.
And now for the look back at 2020 CCCC-ups.
John Finn (John Stillman in CC) only featured in our posts from the first few months of 2020.  John's stint on the zombie-based TV series The Walking Dead came to a dramatic and noble end in the show's 10th season as it returned in March.  Also, the Brad Pitt sci-fi film Ad Astra was released on DVD and Blu-ray in the UK.
When it came to Thom Barry (Will Jeffries in CC) we had even less to add.  The only thing we could come up with was a photo of him with his cast mates Danny and Jeremy from a pre-lockdown event where they bumped into each other.  See that in the March CCCC-up.
Speaking of Jeremy Ratchford (Nick Vera in CC), we had several bits of news about him other than the just mentioned photo.  In February it was new about a role in a Ben Affleck movie called Finding The Way Back.  Moving on to June it was a small role in a movie called aTypical Wednesday (or just Wednesdays in some places) and in November it was catching up with something possibly missed before.  Jeremy had a guest role in Canadian police man + police dog procedural called Hudson & Rex.  The episode was apparently first broadcast in March.
Moving on to Tracie Thoms (Kat Miller in CC) it would be easier to list the TV shows she wasn't in during 2020.  January saw the release of Truth Be Told on the new Apple+ platform.  In February it was a guest spot in Lincoln Rhyme: Hunt For The Bone Collector  and a movie Straight Up.  Grey's Anatomy spin-off Station 19 had an episode in late March that Tracie played a significant role in.  The same month she was in Curb Your Enthusiasm.  Station 19 clearly liked what happened before and brought Tracie back for another episode in March.  Crossing into May were the final episodes of the season of drama series 9-1-1 and Tracie was back there.  After a brief pause we had news of Tracie being cast in a new drama series called Blood Relative in July.  The current global situation has no doubt caused some issues for that so we haven't heard anything more about it since.  Jumping forward again, this time to November, and we had Tracie guest starring in an episode of  NCIS: Los Angeles. Alongside all the TV work, Tracie was very busy on social media and helping with campaigns to help struggling actors and theatres as well as encouraging people to vote.  Or just discussing Rent and The Devil Wears Prada.  As I said at the start, it would be easier to list things Tracie doesn't in a given year.
It has been a relatively quiet year on the Danny Pino (Scotty Valens in CC) front.  The main news story, first posted about in August, was him getting a role in a film adaptation of a stage musical.  It is called Dear Evan Hansen and includes a stellar cast alongside some actors from the successful stage production.  That month also brought info on the film Fatale, which is mentioned earlier in this post.
Having dealt with the cast we can look at one of key crew members from CC we mention when we can.
In 2020 we had several reasons to talk about Veena Sud (writer/producer on CC).  Veena was heavily involved in creating content for the short-lived, short-form, video streaming platform for mobile devices called Quibi.  Several months into the situation we all found ourselves in this year was perhaps not the best time for the release of new product like that.  Veena wrote/produced/directed the 10 part drama called The Stranger, as we first talked about in January prior to the Quibi launch in April.  In August the parts were put together to make one longer movie for showing at a special event.  In November we brought news of one of Veena's older projects, a film called The Lie, seeing the light of day via Amazon's Prime streaming service.
I think that will do for this round-ups of round-ups.  You can, of course, find all the posts about a particular person via the links in the menu on the left of the page.