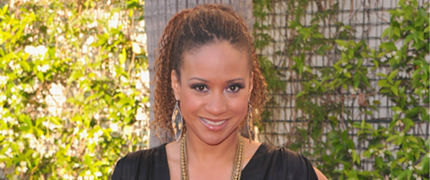 Things around the world are challenging at the moment for everyone.  The situation has already caused the pretty much complete shutdown of Hollywood so TV and film production has ceased.  This will inevitably impact future KM UK CCCC-ups covering the careers of the other Cold Case cast.  So, we will make the most of them when we can.
After last month's change of pace, starting with one of our less regular customers (Jeremy Ratchford) we're back to normal service with Tracie Thoms (Kat Miller in CC).  In February we mentioned Tracie guest starring in a show I knew nothing about: Lincoln Rhyme: Hunt For The Bone Collector.  Turns out Tracie donned the FBI badge again in mid-March, reprising her role as Agent Cutter.  I'm confident that Tracie won't be back again on the show soon, because that second episode was the first of a double that night to mark the end of the season.
News of a guest role like would often be enough for one month, but that's not the way that Tracie operates.  Oh, no.  Another show I was not aware of is Station 19.  It has been around for a couple of years and is a spin-off from the hospital drama Grey's Anatomy, this time set in a fire station.  Jaina Lee Ortiz (Rosewood), Jason George (Grey's Anatomy), and Miguel Sandoval (Medium) are amongst the stars.  Tracie appeared in the 10th episode of season 3, that aired last Thursday (26th March) on the ABC network.  By the look of it this was not the normal brief appearance.  Tracie was a significant role that meant Tracie was on screen for much of the duration.  She played a psychologist (Dr. Diane Lewis) that came in to talk to the crew after a series of traumatic events.
One thing we would never say to Tracie is "curb your enthusiasm."  She might say it to us as at the beginning of March she guest starred in an episode of the long running comedy show Curb Your Enthusiasm.  Tracie worked under the moniker of Female Traveller.
And, we're not finished with Tracie yet.  A few times in recent CCCC-ups we've talked about the movie Straight Up.  It came out in the US at the very end of February, but Tracie was doing some publicity into March.  On the 6th she showed up on the KTLA 5 station Morning News show.  You can watch her interview on YouTube HERE.
John Finn (John Stillman in CC) saw is time on the The Walking Dead come to an end.  We reported previously John being in the upcoming 12th episode on the 15th of March.  As it turns out he was also on the show the week before.  However, is was number 12 that saw his dramatic demise.  As we saw on Cold Case, John can do noble characters very well, must be why we often see him in uniform.  In this case whilst helping to protect a group of children John's Earl character was attacked by some of the titular creatures and did his best to make sure he didn't harm the children in his altered state.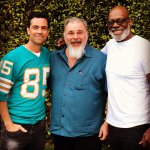 We don't have any specific updates to report on new works by Danny Pino (Scotty Valens in CC), Jeremy Ratchford (Nick Vera in CC), or Thom Barry (Will Jeffries in CC).
What we do have is a 3-for-1 deal photograph.  Early this month Danny ran into two of his old Cold Case colleagues and posted a picture of them together.  You can see the image in its original setting on Danny's Instagram HERE (a copy is in the KM UK Gallery too).  I guess Danny didn't have time to grow a grey beard.  Typical