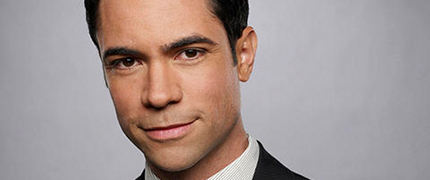 We maybe are starting to see some early signs of things beginning to think about sort returning to a version of normal.  Perhaps.  For now we will be having to stick with these brief Cold Case Cast Catch-ups looking at the on-going (but currently slightly stalled) careers of the main Cold Case cast.  Let's see what July 2020 had for us.
We'll get to Tracie in a moment but first a quick mention of Danny Pino (Scotty Valens in CC).  Danny is due to visit a school in his home town of Miami as part of a funding scheme set up by the Education Theatre Foundation.  This originally started from a memorial concert for the very successful producer Craig Zadan (Footloose, Drop Dead Diva).  The programme seeks to issue grants to a number of theatre schools in communities of colour.  This is to foster a wider diversity of people working within the arts, helping those that would not normally be able to access such schools.
It seems so long ago now but early this month it was announced that our very own Tracie Thoms (Kat Miller in CC) had been cast in the pilot for a new drama on the Fox network.  The show is called Blood Relative and sounds a bit like a cross between Cold Case and Bones.  As you can possibly guess from the title, there is a genealogy element to this.  Combing that with forensics, it is about two woman solving crimes.  Apparently it is based on a newspaper article from a couple of years ago by James Renner about that very thing.  Dascha Polanco (Orange Is The New Black) is set to lead the show with Melissa Leo (Treme).  Tate Donovan (Damages) and Sarah Catherine Hook (the upcoming The Conjuring 3) also star.  Tracie is set to be a regular as Lieutenant Hannah Dixon.  Sort of following from being sort of mentored by Lilly Rush, the first female homicide in Philly, Lt Dixon is first woman to reach that position in their area of the country.  She sounds like she is not so keen on the brand of policing that is the focus of the show, but will no doubt fight for the team, and she has her own personal issues to deal with.  So far Blood Relative is just a pilot, albeit one that will be filmed unlikely many, so we will be keeping an eye out for news on further developments.
Blood Relative is a possible future show but Tracie was recently involved in the end of an existing.  I don't mean she caused it to end, she just guest starred in the final two episodes.  The show in question was Blindspot on the NBC network.  After 100 episodes Jaimie Alexander (The Brink) brought her role of the very tatooed Jane Doe to a close.  Tracie played the intriguingly named Arla Grigoryan, who sounds like she should be some super spy from a foreign land.  Arla was actually the Interim FBI Director.