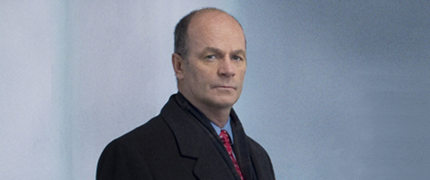 You know the drill.  It's very late in the month so it must be time for the latest Cold Case Cast Catch-up.  The on-going careers of the main Cold Cast cast that aren't Kathryn are worth keeping an eye on since the show ended.
It's not often we get the chance to back-to-back lead-off with John Finn (John Stillman in CC).  Last month it was as a guest star the new CBS legal drama Doubt.  The role was minuscule, little more than an extra, presumably a victim of the many changes made to the show during a long and complicated gestation period.  John's latest guest role was not dissimilar.  He was the supportive father of a more significant character in an episode of long-running powerhouse NCIS.  It was actually a reprise of a role John played in two-parter six years ago.  The now retired Marine Commandant Ellison's daughter was a terminal cancer patient looking for justice for a dead colleague.
Speaking of NCIS, it looks like Jeremy Ratchford (Nick Vera in CC) will be in the spin-off New Orleans series episode next week (4th April).  It involved a drug running ring and possible corruption within the local police force.  Jezza plays Richard Marino.  Could be cop, could be mob.  Can't tell.
We love Tracie Thoms (Kat Miller in CC) here on the CCCC-up.  She keeps us supplied with regular new work to report on.  Plus, she's a talented actor and singer.  What's not to love?  This month has been a bit quieter than some but that's on the Tracie scale, which is differently calibrated from everyone elses.  Mere hours after the last CCCC-up was posted (so often the way) Tracie posted about a new crowd funding scheme to raise money for a film project she's involved with called Say Goodnight And Go.  Karri Bowman (writer/director/actor Bandwagon), Lynn Wactor (Bandwagon) and Tracie (Bandwagon) have re-teamed to make the film.  The money raising is to cover the costs of a 3 minute trailer to help promote the project.  You can see the GoFundMe page HERE.  A finished project of Tracie's is Love.  The whole 12 episode season of the Netflix series Love dropped early in the month.  Tracie guest starred again as Susan Cheryl, the producer of a fictional show-within-the-show.  This time she was only in a couple of episodes as that aspect of one of the main character's lives was reduced in comparison to season 1.
In the CCCC-up from May last year I mentioned that a film starring Tracie was in post-production.  That film was The Drowning.  A bit of digging, or maybe splashing about a bit, showed that I'd actually made reference to the project a whole year before as it was being developed under the name Border Crossing.  It is based on a book of that earlier name by Pat Barker.  Now it looks like the film will get a release in mid-May having been recently acquired for distribution.  Julia Stiles (10 Things I Hate About You) and Josh Charles (The Good Wife) star in the drama about child violence.