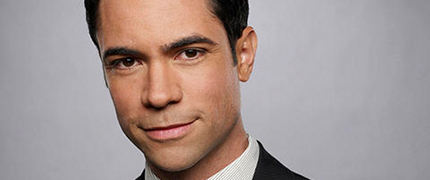 Boom!  And there goes May!  But just before it ends let us take in some news about Kathryn's old cast mates in KM UK's monthly Cold Case Cast Catch-up.
As you can see from the image above we're leading off with our leading man Danny Pino (Scotty Valens on CC).  His new CBS comedy-drama BrainDead starts in just two weeks time.  Danny plays US Senator Luke Healy.  Mary Elizabeth Winstead (10 Cloverfield Lane) is his sister Laurel.  She has returned to Washington after time away as a documentary maker to help her brother run his office.  They are the children of a political dynasty.  As well as the usual problems of government, which normally revolve around their unwillingness to stop fulfilling their own wishes and actually working for the good of the people that put them there, there is a mysterious bug eating the brains of people on Capitol Hill, turning them into zombies.  Tony Shaloub (Monk), Aaron Tveit (Graceland), Johnny Ray Gill (Rectify), and Nikki M James (The Good Wife) co-star.  The show was created by the married couple behind The Good Wife, Michelle and Robert King.
Back in August 2015 we covered John Finn (John Stillman in CC) and the on-going saga of the CBS drama series Doubt.  Without doubt the doubt continued.  A year ago the show was not picked up to series but the project was re-worked and a new pilot shot.  In the past few weeks it was announced the show had had a series order placed.  They are making it.  However, and this is where the doubt creeps back in, it is not in the normal autumn/fall line-up and will be kept for release later in the 2016-17 season.  If one of the new shows gets cancelled early then it could be called up to fill in.  What is also in doubt is John's presence.  He was involved in the original pilot but we don't know if his character survived the re-write or whether John was re-cast in the new version.
Jeremy Ratchford (Nick Vera on CC) has found himself cast alongside Oscar winner Octavia Spencer (The Help) and Oscar nominee John Hawkes (who had some memorable scenes with Helen Hunt in The Sessions) in a new thriller called Small Town Crime.  Jeremy is listed with the character name 'Orthopedic', which is a little odd.  There is quite an acting ensemble with Robert Forster (Jackie Brown), Michael Vartan (Hawthorne), Anthony Anderson (Black-ish), amongst others.  The story is said to involve Hawkes as an alcholic cop who sets out to find the killer of a young woman whose body he finds.  Small Time Crime is by writing/directing partnership Eshom & Ian Nelms (Lost On Purpose) and is currently filming with a likely release in 2017.
It is easy to get a little lost (on purpose or otherwise) when it comes to Tracie Thoms (Kat Miller on CC) and her on-going projects as there are so many of them, and that is not including her one-off singing engagements and the like.  An item in the list that stood out as one I had not posted about before, but had already got as far as post-production, is a film called The Drowning.  Further investigation shows that it is a re-naming of a film I last mentioned one year ago.  Starring Julia Stiles (Blue) and Josh Charles (The Good Wife, not for the first time in this article) it is a thriller that was previously called Border Crossing after the Pat Barker novel it is based on.  Tracie's been upgraded from 'I dunno' to Angela.  To expand on the previous post it involves the issues surrounding a child killer (a killer who is a child) and what happens when they are released from prison.
As mentioned back in February The Real MVP: The Wanda Durant Story, a Lifetime network TV movie about basketball star Kevin Durant's mother Wanda, aired for the first time in early May.  Appropriately it was the Mother's Day weekend, in the US anyway.  It's in held in March in the UK.  Tracie starred as Demetria, which sounds more like a skin cream to me.  Another film to undergo a name change is Raven's Watch, which will now be called The Watcher for its October festival release.  March's CCCC-up covers the details of Tracie's role as we know it.
Later dudes.