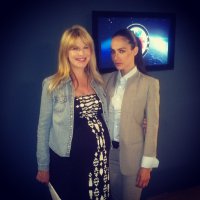 Cast your mind back…  No, further than that…  Woah there!  Not that far!  Nobody needs to see that! 

Where to begin with this?  The beginning sounds good.
The best part of four years ago now we first heard about The Protocol.  It was a short film made by Johnny Messner's (Kathryn's partner) own production company.  A then very pregnant Kathryn had a role alongside many-named Xen Sams and Max Ryan (Sex And The City 2).  Nepotism abounded as Xen's partner was also a producer.  It looked like it involved some near future, almost sci-fi setting with Xen Sams as Agent Amanda Chase.  The images we saw were set in an interrogation room, with the tables turned on Kathryn on for a change.
For the following couple of years we'd occasionally pick up snippets of info about the project.  Mainly from Xen giving interviews in which it was mentioned.  At some point The Protocol looked to have become a small pilot for a planned TV series.  I even went to the trouble of moving what content we had in the KM UK Gallery from the movie section to the TV area!
After a couple of years the film had dropped off the radar, with its IMDb page being removed.  So much for the TV series!
Well would you Adam and Eve it!  A few weeks ago I became aware that the project might be resurrected.  A new IMDb page has appeared, with very scant information on it, other than a two person cast list (Xen and Max) and describing it as a short film again.  I'm not moving the Gallery album until I know more!
This led to tracking down a short clip (which ends abruptly) from the film which I can bring to you today.  It's the Xen and Max show but Kathryn makes a silent showing for a few seconds.  Not a lot of acting involved unless you include acting pregnant.  And she really didn't need to act that!  The small video (and a few screenshots from it) are now in the KM UK the Gallery.  Look at the TV screen we see in the room with Kathryn.  There are some odd images on it that I can't make out.  Any thoughts?
Hopefully this is a sign of bigger things to come from The Protocol.