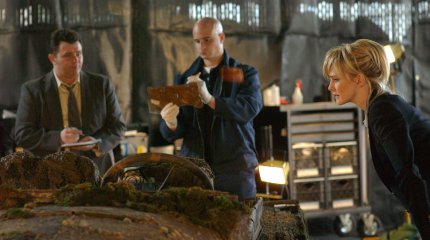 (Sorry for late posting, it's so easy to forget what day of the week it is at the moment)
I promised no prison images this week.  Ta-da!
They are nice pictures too.  If you had to use one word to describe them it would have to be… brown

  The five new promo photos from the Cold Case episode that first aired 15 years ago today (8th May 2020), 'Best Friends', are large, high quality and a little different from the norm.  And brown.
Cold Case is generally about the people, their stories, and how they viewed events from their past.  The squad is not doing a lot of forensic work, other shows covered that extensively, and the evidence tends to be from the testimonies of the witnesses.  They often start with just a photo or letter.  This time they've got a whole truck and a CSU team all over it.  Though, even in this case it is a large muddy equivalent to a photo, to gett the ball rolling.
Kudos to the production crew on this for putting together a very convincing shot at vehicle dredged up from a river 70 years after driving into it.  Hopefully they didn't wreck a proper antique truck to achieve the effect.
The case centres around the two friends, best friends, and the bones of one of them found in the truck.  Lilly and the team discover a relationship between two women.  Very taboo in the 1930s.  You'd like to think we've moved on a lot since then…
One of the stars of this episode is a young Tessa Thompson.  It is her first credited role in fact, though she has said that Veronica Mars was her first job.  Since then she's been in Grey's Anatomy, Heroes, Avengers: Endgame, the Westworld series, and will be returning to the Marvel Universe in another Thor movie.  Veteran actor Piper Laurie (Twin Peaks) also stars in this one, she actually was born the same year the portrayed crime was said to have happened.  For once the big name didn't do it!
The new photos from this award winning episode are now in the KM UK Gallery.