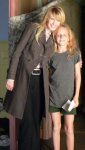 If you haven't done so yet please go and read the earlier post about "Heather Coxx" and the time she met Kathryn.  It's an entertaining, if slightly hard going, read.
Once you have read it you'll no doubt quickly work out that it is in fact Grade-D b******t.  It is certainly not worthy of an 'A'.
In the tradition of exams I will show my working out:
When I first added the photo you see on the right to the Gallery it was done so attached to an article about the Cold Case season 4 episode 22: Cargo. It was part of the KM UK Summer Of HD 2011.
Heather's Twitter account bio reads:


I'm Heather from Cincinnati, 16 years old and proud ginger (even dyed my hair more red). Model. Kathryn Morris is my idol, met her 23-07-'07♥ (see [the image above])
Do you see it?
The date "23-07-'07" in the bio is not in the American Month-Day-Year format yet Heather claims to be from Cincinnati (a word she often misspells).
Cargo was broadcast for the first time on the 15th April 2007, three months before "Heather" claims the photo was taken.  Any filming in late July would more likely be for the first episodes of the next season, and is probably a little too early for that anyway.  Cargo was most likely filmed in March or April.
As stated in the post about Cargo the girl in the photo was actually in the episode very briefly. She was not a visitor to the set.  Here she is at the 32 minute mark: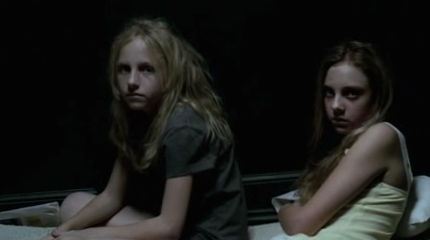 We still don't know the name of this young actress but it is not "Heather Coxx".
And that's all before we even get to the "story".  Let's run though a few points from it:
It is full of names that you will often see used by visitors to this site.
The interiors of the house were probably a film set and not done on location.
"Heather" claims she spoke to Kathryn for two hours whilst in the middle of filming and Kathryn talked about her parents' divorce.
Being cast in Resurrecting The Champ was a secret?  Really?  It was released just a few months after the photo was actually taken, having been filmed nearly a year earlier.  Also, it premièred at the 2007 Sundance film festival, in January!  Kathryn was there, remember?
The only conclusion that can be drawn from all this is that "Heather" is a fake, and not even a good one.  A totally pathetic attempt to dupe KM UK, its readers and fellow Kathryn fans on Twitter by a totally pathetic person.  If you're not even going to do a bit of basic research then why bother?
Shooting them down is quite entertaining though

RichE.