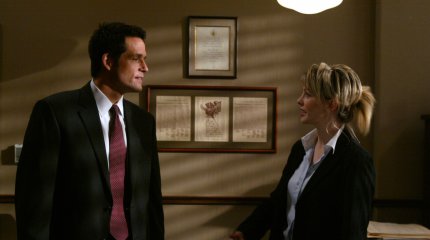 In last week's update for 'Glued', we mentioned things were getting a bit personal between Lilly and Kite.  This week it's more professional, but really it's about the personal.
We have just one updated promo image from 'The Letter', episode 13 in season 1 of Cold Case.  You can see the picture above and the new, much larger sized version in the Gallery.  It was 15 years ago today that this one first aired.
You think 2004 is along time ago?  The case they re-opened was nearly 65 years old back then, and involved the murder of a young black woman in August of 1939.  And that isn't even the oldest crime they looked at.  Assumptions by the police at the time about the victim probably made them even less inclined to investigate.  You'd like to things have changed a lot since then.
To do posts like these I need a few helpful reminders about each episode.  A very useful resource to jog the memory is the fan-created Cold Case Wiki on the Fandom website (the link is always in the list on the left of this site).  There is a huge amount of information about the show in general, the episodes, the cast (including guests) and crew, and much more.  It is constantly being updated.  Go check it out.  I'd like to think that my little site has helped the editors there at times too.