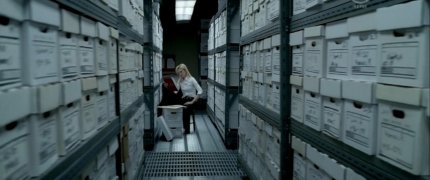 How many people have started watching this episode and had to look at the calendar to see day it is and check the TV is on the right channel?
The subject of KM UK's Summer Of HD for 2014 week 8 is episode 15 from Cold Case season 3: Sanctuary.  It's the first posted in actual summer now we've past the summer solstice.  The show's pre-title sequence starts with musical accompaniment of Teardrop by Massive Attack.  The song is best known to many as the theme from the TV show House (the 2nd mention of that in as many days).  Though for rights reasons in the UK it was replaced by something that sounded very similar.  I've been told that the UK-release DVDs of House can have either tune.
The episode is a Scotty (Danny Pino) focused one as the case relates to an undercover job he was doing 6 years early, way before he joined the Philly PD.  There's still plenty of Lilly though.  Scotty got too personally involved with the victim than is good for a cop working like that.
Along with a couple of promo photos there are now 107 HD (720p) Lilly screencaps in the Gallery.