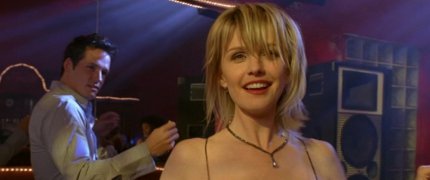 Yes, it's the episode that ends with Rush and Kite at the disco.  Will also has a quick boogie back at the office.  It's Disco Inferno.
The 1978 fire at a disco in which 22 people died might not be the straight forward arson case it first seemed when the skull of a 23rd body is found.  The bullet hole suggests he didn't die in the fire.  The squad boogie on down to business to crack it

Kite persuades Rush to go dancing with him in return for helping to… not so much 'pop a cap' in a suspects ass as pop one out 😯
Lots of great Lilly smiles in this, the latest edition of the KM UK Summer of HD 2012.
268 HD (720p) Lilly screencaps and a small still photo from the episode can now be found in the Gallery.