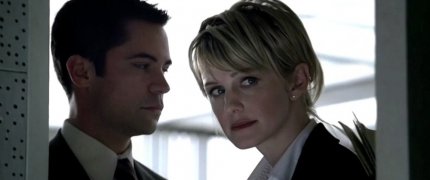 With the big mess the world economy is in at the moment you probably wanted to see horrible things done to bankers.  We'll then, this is a Cold Case episode for you!
Greed is the latest post in the KM UK Summer of HD 2012 series.
Solving this one should be easier than most, though it will likely involve some bugs and slime, and blowing up half a laboratory.  Yes, TJ Thyne (Dr Jack Hodgins in Bones) guest stars in the flashbacks to the 1985 murder of a stock broker Charles Danville.  You can tell it is the mid-Eighties because no one has a mobile phone and there's a DeLorean car being treat as though it is some new and fancy supercar (neither of which it ever was).
An old friend of Kite's, himself slimy piece of work involved in a bit of dodgy financial dealing, is trying to "cut a deal" by offering up some information on the murder.  Whodunnit?  Was it one of Danville's acolytes?
On the Rush/Kite relationship front Jason got to "see the girls".  We can only guess at what Lilly meant by that 😮  But we do get to see the two them together at the end with Lilly waving a singular jug around in front of him and a bar full of others 😉
287 HD (720p) Lilly screencaps and from the episode can now be found in the Gallery.