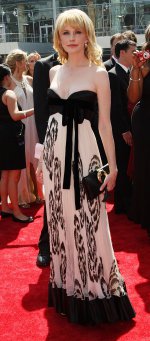 It is just under a week away but we just couldn't help but open one of our Easter eggs early.  Only the best quality, whiter than white chocolate of course.  It might be very finely wrapped but sometimes you just want to rip it open to get the sweet goodness inside.  Nom, nom, nom… 😀
Where were we?  Oh yes, we have a little photo and video update today from an event gone by.  It's odd how the mind works sometimes  😉
Three years ago to the day it was just over 6 months since we first covered this event the Creative Arts Emmys from 2009.  Back on March the 25th, 2010 we updated our Gallery with a video of Kathryn presenting an award at the ceremony, and screencaps taken from it.  We'd previously carried photos from the red carpet in the days after the event happened.
Kathryn looked so stunning in her very off the shoulder dress so it is requires little excuse to make repeat visits to the images.  So that's what we're doing today.
We have added a total of 14 new and updated photos of Kathryn arriving at the Nokia Theatre to our Gallery.  For those keeping count numbers 13, 14, 15 and 28 have been super-sized.  The rest, 30 to 39, are new.  Some are large, some less so.  The descriptions below each image mark the additions and changed ones.  They are all worth a look, of course.
Surely that's enough one day?  (It is, and don't call me Shirley.)  But, no.  Much like the KM UK Award winning dress we see here, our cup runneth over  😉
We also have a small extra video of Kathryn on said carpet.  We can see that she is being interviewed by E!, though this isn't a video of the interview.  The cameraman we see in shot is a little more gentlemanly/professional and doesn't appear to pause part way down like the last guy 😮