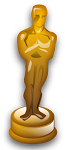 With the SAG; Golden Globe; Grammy; Choice, both Critics' and People's; The BBC Folk and the Australian Grand Dairy Awards having gone by already this year and with the BAFTAs and Academy Awards (aka the Oscars) just around the corner it is clear that we are well into awards season. So KM UK is going to hitch a ride on the statuette giving bandwagon too.
Kathryn Morris UK, in association with… hey, we don't do sponsorship here, at least not with out a load of cash up front… brings to you the first annual RichEs. (And it'll be the last if this doesn't go well.)
Of course I only called the award the RichE so I could talk about Kathryn finally getting her hands on the little RichE she so deserves 😉
That's enough of that, let's get to the award presentations. Good luck.
---
Welcome to the 1st Annual RichE Awards brought to you by the Kathryn Morris UK website.
The KM UK Awards 2010 look back at the events of 2009 to recognise the highs, and lows, of the year.
Please take your seats, turn off your mobile phones (this is the UK so no cellphones here), extinguish any naked flames and check your popcorn bucket is full. Winners please remember that you only have a short time to make your acceptance speeches. Go on too long and we will turn up the music and send in the dogs

Best Actress

Let's start with an easy one: Best Actress.

And the winner is… Kathryn Morris.

Not exactly a surprise this one. Her body of work over the past 20 years has proved what a skilled and versatile actress she is.  If no one else is going to present her with such an award I'll give her one.

Most Entertaining
TV Show
Award

Next up we have the award for The Most Entertaining TV show.

And the winner is… Bones.

Possibly a controversial choice around these parts but it has to be said that Bones is consistently entertaining. Not to take anything away from Cold Case because they are very different shows.  We need to find away to make a Lilly Rush / Bones crossover!

Best Film
Starring
Kathryn Morris
Award

Sadly this category only has one nominee this year giving it a win by default.

So, without further ado the Best Film Starring Kathryn Morris Award goes to… Assassination Of A High School President.

The
Nurse Platt
Award

A special award this one, named after the character in Assassination Of A High School President also known as the Best Actress Starring As A Healthcare (Un)Professional Award.

It can only go to… Miss Kathryn Morris.

Best
Makeup
Award

Onto the technical section with the Best Makeup Award.

"Best" makeup you say?  You may think is a bit of an odd choice based on some comments made here but bear with me.

The winner is the Cold Case Makeup Team for regularly managing to make the natural beauty that is Kathryn Morris look… so much less so. That takes real skill, effort and dedication.

Worst
Makeup
Award

Pretty obvious this one.

The winner is the Cold Case Makeup Team for regularly managing to make the natural beauty that is Kathryn Morris look… so much less so. That takes real skill, effort and dedication.

Best
Costume
Award

The FHM shoot is disqualified for a lack of costume.  Tempting as it was to go with the nurses outfit from AOAHSP, or some of the tighter trousers (that's 'pants' to our US cousins) on Lilly or Saccardo's t-shirt as worn by Lilly, we are going to make this about the red carpet outfits.

Kathryn wore some great outfits at various events over the course of 2009 giving us lots of strong contenders for this award. I've narrowed it down to just 3.  The nominees are the red dress at the Terminator: Salvation Premiere, the black & white number at the CBS/CW Press Tour event and who could forget the strapless dress at the Creative Arts Emmys.

I'm sure you'll agree that it was not an easy choice for the judge (that'd be me) to make at all. Having studied all the photos in great detail 😉 a decision has been made.

The award goes to… the Creative Arts Emmy Awards dress.

Word
Costume
Award

Moving not too swiftly on we need to cover the opposing award to Best Costume.  Yes, it's the Worst Costume Award.

I am happy to report that this was not a crowded category. Across the 8 significant public events that Kathryn attended only one stood out as something of a fashion mistake. The dress and the hair-do combined to do the normally well turned out Kathryn no favours.

It can only be the red dress and odd hair-do at the Environmental Media Awards.

Oddly enough the same event 2 years before gave us one of Kathryn's less successful outfits (nice legs, shame about the face).  Must be a "green" thing.

Surprise
Guest
Appearance
Award

An unusual category and one that is difficult to describe the winner of.

Let's just say it involves the cover of FHM magazine and leave it at that 😉

Best
Supporting
Role
Award

After the previous award some of you may be able to see where this is going.

The nominees involve the penultimate image from the FHM set and the Creative Arts Emmys Awards dress. Both showed great… fortitude.

And the winner is… the Creative Arts Emmys Award dress. Taking its second award of the evening.

Greatest
Smile
Award

Everybody's favourite category. So many fantastic nominees. Almost too many to mention so I've picked 4 from the 8 main public events Kathryn attended during the year.

Let's check out our 4 nominees:

Despite everyone being a winner in its own right, we have to pick one. I think you are going to wholeheartedly agree with me that it has to be:

Perfection

Giving the Creative Arts Emmy event a quarter of the awards today.

Best
Newcomer
Award

This is a late addition to the line-up and there does not appear to be a golden envelope to open for it. Awkward! Let's wing it.

What was new last year that was Kathryn-related and deserves an award…? How about..? no, not that… What about…? No they'll never buy it… Wait a minute…! Can I get away with it? Oh, what the hell!

The winner of the Best Newcomer Award is… KM UK!

You love me! You really love me! I want to thank the panel for giving me this award.  It means so much more that it was chosen by you, the judge.  I didn't see this coming so I don't have anything prepared…  I want to thank… my family, without whom I'd not be here.  My friends for making me the centre of their universe.  No, don't start the music!  I WANT TO THANK…  WHERE'D THOSE DOGS COME FROM?!?!  ARRRRGGGGGGGHHHHHHHhhhhhh!

Contribution
To KM UK
Award

And finally, to bring this inaugural event to a close, the Contribution To KM UK Award.  First of all I want to thank you all for all your contributions to KM UK, you make it what it is, but I wanted to take this opportunity to pick out one or two of you that have gone above and beyond.

Lester, thank you for alerting us to the FHM photos, they were truly "game changers", as people seem to say these days. Celina, thank you for your generous contribution.

However, the award for Best Contribution To KM UK has to go to Zoé of ColdCasePedia. She has provided graphics (including the site logo), images and been very generous to me personally. I think we all owe her a debt of thanks, I know I do.
Sadly Kathryn couldn't/wouldn't be here to accept her awards so I'll just keep them all to myself

Right, I've had my fun, and I hope you enjoyed it.  Now it's your turn.  If you can think of any other award categories, the nominees and winners that you'd like to share, please leave your ideas in the comments.
The statuette graphic is courtesy of Iconshock @ IconsPedia.