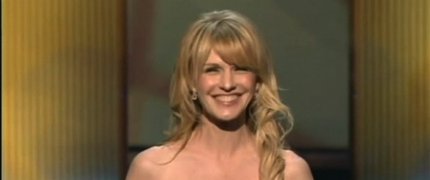 Was it really 6 months ago?  It only seems like last week.
Even if only 7 days had gone by it would still be worth re-visting this event, if only for that award winning dress.  KM UK Award winning that is

Kathryn sounds a little horse as she speaks.  You know what it's like: you get all these women together in their fancy frocks and shoes and they just can't stop talking.  It's a wonder the ceremony started at all! 

  Or maybe she was a bit under the weather

  She should be tucked up in bed… hang on… no, I spelt that right 😮
The smile, oh the smile, is still very much still in evidence

Anyway, 47 exclusive screencaps and a small video clip covering Kathryn's presenting on the show have been added to the Creative Arts Emmy Awards 2009 gallery album.  Enjoy.
Huge thanks to Lester for putting the effort in to getting this to me so I could share it with all of you.