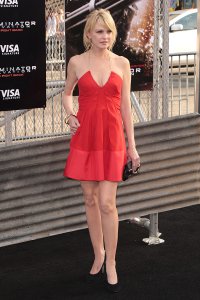 It is fair, and a little punny, to say that photos from this event kill me every time.
We're looking back seven, yes 7, years to May the 14th 2009 when Kathryn attended the US première of Terminator Salvation.
The film was set to reboot the franchise with a new John Connor in the form of Batman, aka Christian Bale.  It didn't really succeed.  They tried again in 2015, this time with Arnold Schwarzenegger back involved as well as Game Of Thrones star Emilia Clarke as Sarah Connor.  I don't think that one worked either.  No doubt there are plans for another in the series though.  Hollywood just can't let a possible cash-cow go.  Next they'll be trying to make a sequel to Beetlejuice!  They are?
Anyhoo.  The film may not have given the fans what they wanted but Kathryn on the red carpet certainly did!
She looked stunning in her little red dress and similarly sparing use of make-up and simple hair style.  What could be better?
It's all there.  Including a some lovely smiles.
I've added 9 more images from the event to the Gallery for you to feast your eyes upon.  If you dare!
To quote the big man:  "We'll be back" to this one in the future.