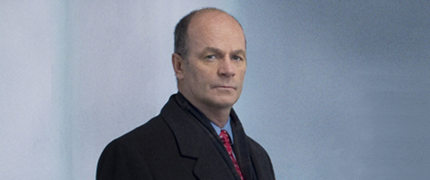 Winter is definitely on the way for those of us in the northern hemisphere.  The sun is not setting early on our Cold Case cast members though.  Welcome to October 2019's CCCC-up where we catch-up with the stars of Cold Case that aren't Kathryn.
Let's start with John Finn (John Stillman in CC) as this takes us back to the beginning of the month.  The long-running AMC drama series The Walking Dead returned in early October for its 10th season.  I don't watch the show myself but it looks from IMDb listings that John has reprised his role as Earl Sutton in the opener and episode 4, which aired a few days ago.  Perhaps he'll be back for more as the run (zombie shuffle?) continues.
John is a mere hors d'oeuvre to the ever prolific Tracie Thoms (Kat Miller in CC).  How does she do it all?  On the day John was back with the undead Tracie was with those trying to prevent the deadening in the first place, as she guest starred on ABC's The Good Doctor.  We referenced this in the September CCCC-up.  Within a week Tracie was back at over on Showtime's The Affair, which stars Maura Tierney (ER) and Dominic West (The Wire).  On top of those, Tracie managed to squeeze in a couple of episodes of 9-1-1, which is on the Fox network.  Another fortnight and she'll be back for a third.
That enough Tracie news for one month?  Of course not.  We're just working up to the big one.  Back in June of 2018 we first reported that Apple, of iPhone fame, had commissioned a new drama for it's planned streaming service (now called Apple TV+).  That show became Truth Be Told.  Octavia Spencer (The Shape Of Water) is a true-crime podcaster who tries to solve a mystery.  Aaron Paul (Breaking Bad), Lizzy Caplan (New Girl), Elizabeth Perkins (The Flintstones), and Mekhi Phifer (ER) co-star along with Tracie.  A trailer was released for Truth Be Told early in the month.  See it HERE on YouTube.  Tracie appears briefly near the end.  The première date for the show is the 6th of December.
Speaking of streaming services, we are on the verge of another one joining the fray.  April 2020 is the planned launch date for Quibi, a mobile streaming platform for short form videos.  Longer projects will be released in 10 minute segments, aimed at being consumed in "quick bites" suitable for those on the go.  There are some big backers of this company.  The likes of Jeffrey Katzenberg (DreamWorks SKG), Meg Whitman (Hewlett-Packard), Steven Spielberg (many films), and even existing large media companies like Disney and Sony Pictures.  They have raised $1 billion in investment.  A partnership with the T-Mobile communications organisation has recently been announced.  But why are we mentioning it in a CCCC-up?  That's because Cold Case producer/writer Veena Sud (The Killing) is making a drama series called The Stranger for Quibi.  She is writing, producing and directing this one.  The Stranger involves an Uber-style driver (Claire) caught up with a sociopath in a 12 hour long fight for survival.  Interestingly, there will be ten 10-minute episodes, each made available 1 hour later than the previous one.  Dane DeHaan (Chronicle) and Maika Monroe (Independence Day: Resurgence) are the stars.