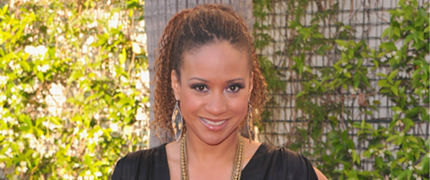 We're already 1/12th of the way through 2018, more if you consider the number of days. To mark the occasion here's a quick round-up of updates in the world of the Cold Case cast that aren't Kathryn.
These regular CCCC-up posts are about looking back at the recent careers of the CC cast.  We often revisit items as more news comes in.  To start with Tracie Thoms (Kat Miller in CC) we are going back over two years.  In October 2015 Tracie filmed a comedy called The California No.  All this time later the film finally received its world première earlier this month at the San Francisco.  Things can move slowly in Hollywood.  Maybe the film has found its time.  A couple of days before that a trailer was released, you can watch it HERE on YouTube.  Beware, it contains 'adult themes'.  The film stars Noah Segan (Star Wars: The Last Jedi), Ursula Mills (Peter Pan), with some slightly better known faces like Jordan Hinson (Eureka) and Breckin Meyer (Road Trip) alongside Tracie in the support cast.
Speaking of films starring Tracie and world premières another of her many projects, a short called Are We Good Parents?, will be getting its debut at the SXSW film festival.  The film is to be shown three times across the whole event which runs from the 9th to the 18th of March.  As it is a short film it will be packaged in a screening with others in the same category on the 10th, 12th and 15th.  Sean Maguire (Once Upon A Time) co-stars in Bola Ogun's film about two parents dealing with their teen-aged daughter going on her first date with a boy.  A common enough issue for parents around the world.  These two, however, had got the idea that their daughter was gay.  See the SXSW website for details HERE.
Staying with Tracie: she was treading the boards again at the beginning of last week.  In aid of the ACLU (American Civil Liberties Union) the play-on-words comedy titled Villian: DeBlanks came to LA at the Rockwell Theatre.  As you can probably guess from that clever title the murder mystery play is improvised, with the actors having to use suggestions from the audience to shape the story.
To round-off Tracie new this month the Lifetime network show-about-a-show UnREAL returned for its third season on Monday (26th Feb), and the third and final of Love (the Netflix comedy-drama) starring Gillian Jacobs (Community) and Paul Rust (Comedy Bang! Bang!) will be out on the 9th of March.  The trailer for that is HERE on YouTube.
John Finn (John Stillman in CC) next.  Bent, a movie starring Karl Urban (Dredd), Sofia Vergara (Modern Family), and Andy Garcia (The Lost City) is due for release next week.  We first mentioned it on this site last May.  The framed-cop out for revenge thriller will receive a limited cinematic outing and be available via VOD services such as iTunes.  Another 'adult themes' trailer can be seen on YouTube HERE.
Further, and even greater, evidence of the way things sometimes go in Hollywood is the film Give Til It Hurts.  KM UK first and last mentioned this film waaay back in December 2014.  2014!  At that time release was due in 2015.  Now we have a date of 6th July 2018.  Two brothers try to get back an inheritance they believe is theirs.  Jeremy Ratchford (Nick Vera in CC) has the enigmatic role of 'Elvis', likely a small role.
Just in time for Xmas a teaser trailer and some promotional art work was released for Veena Sud's (writer/producer on CC) latest project Seven Seconds.  We covered that in our round-up of round-ups to end 2017.  Since then a full trailer was let loose (watch it HERE on YouTube).  The 10 episode drama was made available in its entirety last week on Netflix.  The show centres around the shooting of a black teenager by a white police officer.  Regina King (American Crime) plays the boy's mother dealing with the aftermath.  The story is based on a Russian show.  Who'd of thunk it?  Russia influencing American media!