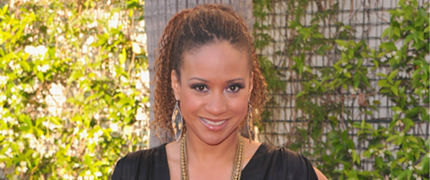 The lockdowns are really starting to have an impact on the business we call show, as the pre-studio closure work has been broadcast and there is increasingly nothing new to replace it with.  Some formats, such as chat shows, have been able to work around the limitations but the traditional drama series really can't.  As such there is going to be little to talk about in these monthly updates as the current situation goes on.  We will continue to bring you news of the other Cold Case cast members work as best we can.
In circumstances like these we need to cling on to those that we can most rely on to be there for us.  For the KM UK CCCC-up that person is Tracie Thoms (Kat Miller in CC).  Every month, almost without fail, she gives us something to talk about.  Often multiple things.  This April is no exception.
Two of weeks ago now Tracie reprised her role as Dr. Diane Lewis in the Grey's Anatomy spin-off Station 19, which is set in a fire station.  As previously reported Tracie first appeared in this ABC drama three episodes earlier.  In that one Dr Diane was in pretty much every scene as show spoke to various members of the fire fighting crew.  Second time around the role looks to be a little smaller.
In a couple of days (2nd of May) Tracie re-reprises her guest starring role on the show that covers multiple emergency services: 9-1-1.  This episode is the penultimate in the season and is the first of a two parter to end the run.  A big draw for many fans will be the return of actress Connie Britton (Spin City) who lead the first season but seemed to make an abrupt exit.  Jennifer Love Hewitt (The Client List) was brought in as a new character to replace her for season two.
For a little variety Tracie also recently took part in a discussion with Mia Schachter in a podcast called 'Share The Load'.  Look for it on your podcast app of choice.
After a great showing (beards excepted) last month we have been let down by the gents this time.  Instead we have to look two ladies that appear less regularly but we like to mention when we can as they played a significant role in the making of Cold Case.
Despite the issues the world faces, April saw the launch of the mobile only short form video application Quibi.  Some might say this was in fact the perfect time to do so.  Veena Sud (writer and director on CC and The Killing), as we've talked about several times before on this site, created The Stranger for the platform.  Maika Monroe (Independence Day: Resurgence) is Clare, who becomes an Uber (or similar) driver in LA to make some money whilst working on becoming a writer, when she meets her latest fare played by Dane DeHaan (The Amazing Spider-Man 2).  Things take a turn, and not just the car.  The reception to the 13 part seems largely positive.  The one rule the platform seems to have is that each video can be no longer than 10 minutes.  So, The Stranger is a two hour long thriller.
To finish up this month we must make mention of Cold Case creator Meredith Stiehm.  She was heavily involved in the earlier stages of the long running drama series Homeland, which just reached its series finale (not quite in the UK).  Meredith wrote 10 episodes and executive produced on over 40.  More recently she's been involved in the Writers Guild Of America, who have been battling legal issues with talent agencies, and we await further news on a show called The Banker's Wife which we're reported on a couple of times before (here & here).  As the first news broke in September 2018 and here we are not far from two years later you can see how slowly these things work sometimes.