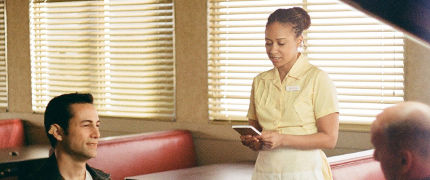 It's September 2012's round-up of news regarding the other cast-members of Cold Case.
Kicking off with the ever loopy, I mean lovely, Tracie Thoms.  Well, I say "loopy" because her latest film role is due to hit the big screens at the end of this month across most of the world.  The film is called Looper and stars Joseph Gordon-Levitt (Inception and 3rd Rock From The Sun), Bruce Willis (Die Hard) and Emily Blunt (The Devil Wears Prada, which Tracie had small role in).  Beyond what we've seen in the photo above, other similar ones and a handful of frames in a trailer, the extent of Tracie's role as Beatrix is not known.  Looper received it's world première at the Toronto International Film Festival earlier this month.  Still no news on the release date for the kidnapped-women-forced-to-fight-each-other movie Raze that Tracie made earlier this year.  And no doubt Tracie has been involved in a dozen other events and projects since our last update.  She's a very busy lady!
In the previous CCCC-up we extended the scope a little to include Veena Sud and Liz Garcia.  Both women had significant behind-the-cameras positions on Cold Case and there was news of major projects for both them.  Well, this time we can mention Liz's new film The Lifeguard again as, according to IMDb, John Finn has joined the cast as "Big Jason".  Make of that what you will.  It's set for release sometime next year and stars Kristen Bell of Veronica Mars fame.