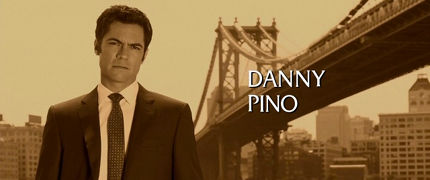 We're cutting it a bit fine this month!

A week after our CCCC-up for April 2013 the US TV network NBC announced that Law & Order: Special Victims Unit would be renewed for a 15th season.  Danny Pino (Scotty Valens in Cold Case) will be continuing in his post-Cold Case role of Det. Nick Amaro.  The order is a for a full 22 episode season.  Last year the same thing happened and two more episodes were added later.  The pick-up for L&O:SVU's 14th season was much in doubt with lead actress Mariska Hargitay and the studio playing chicken in a chicken-and-egg situation to see who jumped first.  Without Mariska's signature would the network agree to a new season?  But unless there was the promise of a new season why would Mariska sign?  That was sorted out but this time things were different.  The show was renewed while negotiations continued with Mariska.  On Monday (27th May 2013) it was announced that she would be returning.  Good news for all her and the show's many fans.
Danny is doing well after joining an established show but it wasn't such good news for other stars of Cold Case trying start new shows.  Neither Kathryn's Surgeon General nor the new pilot Gothica with Tracie Thoms (Kat Miller on CC) were picked up to series.  Proving that you can't keep a good woman down for long Tracie has just announced that she will be performing her "Seasons" show in at Rockwell LA in July.  No doubt there will be other TV and film roles before long.  After the tragic death of her new puppy Bulleit in March Tracie has got herself a new dog.  This one, also a puppy, is called Jameson (we're picking up a theme with these names!).
The recent release of the latest movie in the Fast And The Furious franchise (Fast & Furious 6) didn't see the return of Thom Barry (Will Jefferies in CC) as Agent Bilkins.  Thom did, however, make a guest appearance in one of the last episodes of the most recent season of the TV show Grey's Anatomy at the end of April.  Thom is also listed as starring in a forthcoming film called Richard Peter Johnson.  That triple-whammy name has to be the ultimate says everything, yet tells us nothing film title.  We can't really describe the film here, partly due to the nature of it and partly because we're not sure what it is.  On the face of it it looks like a documentary but has a lot of actors playing character roles.  The lead is, in essence, a fictional role but is also the fact at the centre of the film.  Then there's a real actor playing himself.  Confused?  Well you try explaining it!

CBS drama Golden Boy, in which John Finn (Lt. John Stillman in CC) had a guest role, was, as widely predicted, cancelled in the cull of existing shows.  John, however, has starred in a new TV project that takes him back to his roots in a couple of ways.  An Bronntanas is a Irish drama, filmed in Ireland and in the Irish language.  John will play police sergeant Seán Óg Greene.  John has previously known to be a enthusiast of the language and has been seen using it in a cross-over promotional video for Cold Case and a local soap opera for the Irish TG4 TVnetwork.  Filming was completed in early May on the new 5 part drama series about a lifeboat crew that finds a huge stash of smuggled drugs aboard an abandoned fishing vessel reported to be in difficulty.  It is expected to air in Ireland next year. You can read more, and see some on-set photos, on the show's Facebook page.
Taking one of our slightly more off-track routes through the Cold Case cast's post-CC work brings us back to the creator of the show Meredith Stiehm.  A week ago today (23rd May 2013) Meredith's latest project, an adaptation of the Scandinavian drama Bron/Broen (The Bridge), had it's premiere date announced by the US TV network FX.  The 12 episode long drama will debut on the 10th July (a Wednesday).  The original was based around the story of a murdered body found straddling the border of Denmark and Sweden which is found on a bridge joining the two nations.  This required police forces from both countries to be involved in solving the crime.  The remake transposes that to a bridge between the United States and Mexico.  German actress Diane Kruger (National Treasure) leads the cast Detective Sonya North.  Sadly they appear to have passed up the chance to give the lead Mexican detective, played by Demián Bichir, a name that means South