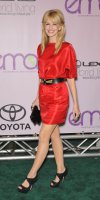 That's quite a contrast to the event the previous day.
Kathryn attended the Environmental Media Awards held at the Paramount Studios, Los Angeles, on 25th October 2009. The event was celebrating its 20th anniversary. Well, if we've been having these events for 20 years perhaps the environment isn't in such a mess after all

Remember to recycle that joke.
I have to say that, much like for the Monte Carlo Television Festival event on Saturday, I'm not a fan of the dress. I don't think it suits her.
And the hair is not as good either. Why are there bits hanging in front of and behind the shoulders? If it was all swept back it would be better.
At least she didn't over do the lipstick as she did a couple of years ago at the same event. And the dress that time out was a little odd too.  Kathryn, just don't try so hard and you look great.  Nice to see the legs on display again though

34 HQ images are in the Gallery.
Thanks again to Ludo, he really came through for me this weekend.
Update: 13 more images added to the gallery. Thanks to 007 this time.
Update 2: 17 more images added to the gallery. Thanks again to 007.
Update 3: Interview video added. Thanks to silversideup.
Update 4: Maximum Morris edit video and HD screencaps added (November 2010) to the Gallery.