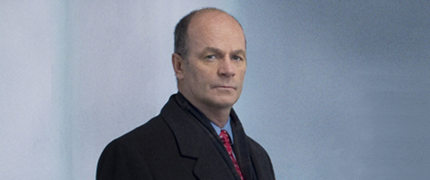 A slow start news-wise to 2020 for our Cold Case cast members that aren't Kathryn.  The KM UK January 2020 CCCC-up is looking like slim pickings.  I have every faith that will change once Tracie recovers from the holidays

For the past couple of season of The Walking Dead John Finn (John Stillman in CC) has featured as a guest star in a recurring role.  John's Earl Sutton is expected to return when TWD returns from hiatus next month.  But as we know with shows like that, things can change very quickly and no-one is safe.
In the UK the big sci-fi movie Ad Astra, starring Brad Pitt, became available on the home DVD and Blu-ray formats in the last few days.  The US saw the release a month ago.  We've mentioned the film and John's role in it many times over the past year.
Towards the end of last year Apple launched their new streaming service TV+.  One of the big shows on it was one called Truth Be Told.  It has an all star cast of Octavia Spencer (Hidden Figures), Lizzy Caplan (Cloverfield), Mekhi Phifer (ER), Elizabeth Perkins (Big), Aaron Paul (Breaking Bad), amongst others.  Our Tracie Thoms (Kat Miller in CC) was one of those others.  The show was released on a weekly basis, rather than one big 'drop', and the final of 8 episodes saw the light of day in mid-January.  Apple has announced several of their shows as being renewed.  So far there is no news on Truth Be Told.
Several times in recent CCCC-ups we've mentioned that Cold Case producer/writer Veena Sud (The Killing) has made a 10 episode drama series for a new streaming service for mobile devices called Quibi.  As we go to press (when I post this) the Sundance Film Festival has been going for a week and still has a few days to go.  Quibi has been featuring at the event, they seems almost designed to be together, with previews and Q&As going on.  Veena certainly took part promoting the 10-minute 'long' episodes of  The Stranger.  Quibi is expected to launch in April.