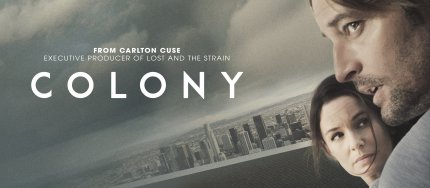 Many years ago the United States Of America was formed by the joining of 13 British colonies down the East coast of the country.
Now, after the series just finished airing its first season on American TV the sci-fi-ish drama Colony is said to be on the way to Britain.
The Digital Spy website has reported that the Sky 1 satellite channel will broadcast Colony to home in the UK starting in early April of this year.  This could mean repeats on the Freeview channel Pick (which was once known as Sky 3) at some point in the future.
Read the Digital Spy article here.
Last September, around the time we found out that Kathryn had joined the cast (by then they'd probably completed filming already), it was announced the streaming service Netflix had acquired the global rights to Colony.  It will become available there early next year.
As we know Colony has already been signed up for a second season due to air next year.  Kathryn's continuation or otherwise is not known at this point.