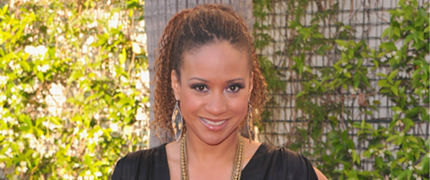 July's CCCC-up promised little due to the quiet summer months.  Despite that, I think we put together a reasonable amount of information.  August is also slim pickings for looking at the news of the Cold Case cast's on-going careers.
Last time we mentioned her (almost) last so it is only fair that this month we let her go first… with The First.  July's CCCC-up finished talking about a new drama series coming to the streaming service Hulu.  It is called The First and stars Sean Penn (Dead Man Walking) and Natascha McElhone (The Truman Show) and Melissa George (Hunted), and Tracie Thoms (Kat Miller in CC).  The 8 episode drama about the first manned (and womaned) mission to Mars is due to for launch all at once on the 14th of September (a Friday, in case you're interested).  Previously I posted a link to a teaser trailer that had been out a week.  Now we have a proper trailer only a couple of days old.  See it HERE on YouTube.  Tracie features, very briefly, around 55 seconds in.  Expect to see Tracie in two episodes.
On that very same day in September the horror movie The Basement, which also sees Tracie in a small supporting role, gets its limited cinematic release.  There is a trailer but I'm not going to link to it (you don't need to see it) and Tracie is not in it anyway.
As there is just a few days to go now there has been quite a lot of press activity regarding Mayans MC, the FX network drama spin-off from Sons Of Anarchy.  The new show which stars Danny Pino (Scotty Valens in CC)  starts next Tuesday, the 4th of September.  We've covered Mayans MC here on KM UK quite a lot already for those looking for a bit more info.
Let's sneak in a quick mention of one of our less frequent fliers (because she sort of doesn't fit these posts really): Veena Sud (producer & writer on CC).  It was back in April's CCCC-up that we mentioned Veena was re-uniting with her The Killing star Mireille Enos for a new film called Between Earth And Sky.  It has been renamed to The Lie and has featured in a list of projects recognised for being gender balanced.  Women in Film, the Sundance Institute, and IMDbPro have formed a group called ReFrame to do just that.  Veena wrote and directed The Lie.