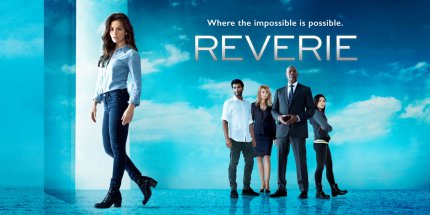 When is a preview video not a preview video?

Straight after the first episode of Reverie aired last week a short promo video was shown.  It is common practice for a teaser for the next episode to be shown at that time to make the audience go "ooh, that looks good, I must watch that."
That's what would normally happen, and for that very reason many have taken the video to be just that.  You'd think the words "This Season" near the start and the multitude of guest stars would be clues enough.  There almost certainly is a clip or two from 'Bond. Jane Bond' in there, but it is not a trailer about the episode.
On the other hand the official press release for episode two is about it, whereas as the similar release for the pilot was more generic and didn't mention the case of the week.
06/06/2018 (10:00PM – 11:00PM) (Wednesday) : When a client becomes addicted to a "Jane Bond" adventure, Mara (Sarah Shahi) must help her assemble the missing pieces in her life to save her. At the same time, Mara deals with the unanticipated side effects of Reverie. Dennis Haysbert, Sendhil Ramamurthy, Kathryn Morris and Jessica Lu also star.

Looks like we will get to see our first use of Onira-Tech's VR technology for people to live out a fantasy life, in this case a James Bond-style action-filled adventure, instead of reliving a part of their real life.
There were promo images released for 'Bond. Jane Bond' but none included Kathryn.  Hopefully that is a not an omen for the amount of Monica Shaw appears.
We have a longer version of the this latest promo video now in the KM UK the Gallery.

Update (5th June):  A clip from the show has been released showing Mara Kint (Sarah Shahi) entering the Reverie of the lady that is living out the Jane Bond-style fantasy. Hilarity ensues.  No Kathryn.  Check it out in the usual place.

Update 2 (5th June):  Another short video clip from this episode has been released.  This one sees Mara having the latest case, our 'Jane Bond', explained to her and she is introduced to her new office.  Still no Kathryn.  You know where to find the video.
Update 3 (6th June):  Guess what?  Yes, we have yet another short video clip from this episode.  Guess what?  Yes, Sarah Shahi stars.  Guess what?  Yes, Kathryn features strongly in this one.  Yay!  Mara sort of meets Monica for the first time.  Charlie brushes off her question about the mysterious lady and does much the same with Monica regarding Mara.