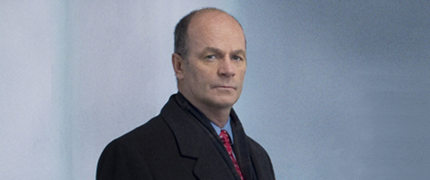 Some of you got through Thanksgiving (I guess we all survived that).  New traditions Black Friday and Cyber Monday have gone passed to.  Can you deal with November's CCCC-up?  Let's see what happening in the careers of the Cold Case cast (and occasionally crew) that aren't Kathryn.
There is always a concern with these updates that things will be too quiet so there will be nothing to say.  Luckily, with a number of people to talk about, and one of them being Tracie Thoms, there is always something.  Nearly.
John Finn (John Stillman in CC) has featured a more in recent months than is usual.  His joining the hit drama series The Walking Dead in a recurring role was much of it.  Just this week the show ended the first half of season 9.  It will rise from the dead (see what I did there?) with part two in February 2019.
The new news regarding John is a role in a new mini-series about the controversial (I think that's the way we have to phrase these things) TV mogul Roger Ailes.  He was the, lets say, man behind the, what we'll call, TV channel Fox News.  He had a clear vision for what the channel should do and how to do it.  He succeeded.  Ailes became headline news himself with allegations about his behaviour towards female staff members, including the on-screen talent such as Gretchen Carlson.  Ailes died in 2017, a year after resigning because of the allegations.  There is currently a movie in the works about Ailes starring John Lithgow, Charlize Theron, Nicole Kidman, and Margot Robbie.  The project our John is involved in, however, is an 8-part series for the Showtime network called The Loudest Voice In Room.  In this one Russell Crowe (Gladiator) is Ailes and co-star Naomi Watts (King Kong) is Carlson.  John is listed as a 'Jack Welch'.  It is not clear who that is to me, but the most prominent person, and most likely candidate, is the former CEO of the massive General Electric corporation.  He was at the top of the company for 20 years from 1981 so would definitely have a contemporary of Ailes.  Seth McFarlane (Family Guy) and Sienna Miller (Layer Cake) are also set to co-star.  Release is expected next year sometime.
You could normally create a magazine called 'What Tracie Did This Month' or 'Thoms Monthly' and rarely be stuck for content.  This month's edition would be lacking a little in original content so instead you'd run a lengthy feature about the movie of the musical Rent.  It was the film's 13th anniversary this month and Tracie Thoms (Kat Miller in CC) no doubt enjoyed the fans reminders of that.  Apart from the though that it was thirteen years ago!
Stepping up to the plate to help out with some extra count is one of less regular guests and outlier in the whole Cold Case cast theme.  According to a news site called SneakPeek, the Cold Case producer/writer Veena Sud is set to direct a remake of the Alfred Hitchcock movie Suspicion.  Apparently Veena is also adapting the screenplay herself.