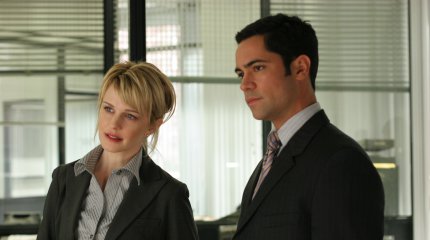 The snowy conditions have thawed to rain for the Cold Case squad, but Lilly's sister's presence continues to keep things frosty between her and Scotty.  And then there's 'that dinner date'.
1969.  A young woman's body is found in an apartment.  Her boyfriend is on his way to Canada to avoid the draft for Vietnam.  One man's conscientious objector is another's deserter.  Either way he's the prime suspect.  On the 20th February 2005, Cold Case episode 14 from season two was first shown.  It was a Revolution.
Meanwhile, Christina and Lilly meet for dinner to discuss things.  It does not go well.  The less said about it the better.  And not just the dress!
The four new photos you see around this post have now been added to the KM UK Gallery.