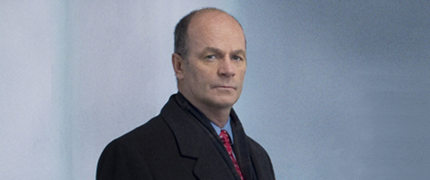 The year is marching on at quite a pace.  So let's follow suit and do the March 2019 Cold Case Cast Catch-up.  In these regular posts we look at the on-going careers of the other members of the Cold Case cast.
Who should be start with today…?  How about John Finn (John Stillman in CC). The picture above rather gave things away, didn't it?  Evidence that despite the breakneck pace of media these days, the gears can grind extremely slowly in Hollywood.  Waaaaaaay back in September of 2016 we first reported that the film Finding Steve McQueen had begun filming.  It was the culmination of over 5 years of work at that point.  Here we are in early 2019 and the film finally had a release a couple of weeks ago in the US of A.  The film is based on the true story of a group of thieves that plot to steal $30m of an alleged secret stash of illegal funds owned by the President Richard Nixon.  Travis Fimmel (Vikings), William Fichtner (Mom), Forest Whitaker (The Last King Of Scotland) co-star.  John plays Mark Felt, an Associate Director of the FBI who gave information anonymously about the Watergate scandal to the reports Woodward and Bernstein under the pseudonym 'Deep Throat'.  That secret wasn't revealed for 30 years.  The iconic actor Steve McQueen mention in the title is a reference to one of the thieves idolising him.  The recent season of The Walking Dead, which saw John join the cast, recently came to an end, and it appears that John was only in the pilot of The Enemy Within.
Danny Pino (Scotty Valens in CC) will not be able to reprise his guest starring role in the Netflix sitcom One Day At A Time.  It has just been announced that show will not be returning three seasons.  Danny has been busy recently promoting the WGN America's series Gone.  It took a long time to get an airing at home but seems to have been well received so the cast have been out there pressing the flesh.  We get a two-for-one with Gone as Tracie Thoms (Kat Miller in CC) is also features quite prominently across the 12 episode season.
One of the big entertainment news story this past week involves Tracie.  Apple has officially announced its subscription streaming service.  It struck me as not really news as Apple has had the streaming service for years and back in June last year we first mentioned Tracie signing up for a new drama series for Apple.  Many other shows have been know about for a long time too.  The show that Tracie is in was, up until recently, known (without a ?) as Are You Sleeping.  Now it has been renamed to Truth Be Told and is about Octavia Spencer's (Hidden Figures) reporter investigating an old case through her podcast.  See what Apple have done there?  Lizzy Caplan (Cloverfield), Aaron Paul (Breaking Bad), Elizabeth Perkins (Weeds), Mekhi Phifer (ER) co-star.
To round things off, last week Tracie was kind enough to post a couple of photos from a little Cold Case reunion with Kathryn.  See HERE.  It looks like the two of them were involved in some publicity work for the Start TV network, which is broadcasting Cold Case twice a day at the moment.