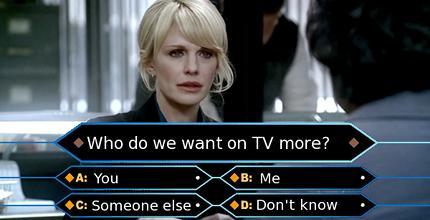 Lilly will have to step aside as Kathryn gets her chance to ask the difficult questions.
Kathryn will one of the celebrities asking the Celebrity Question on the upcoming new season of the US version of Who Wants To Be A Millionaire.  The new season starts on 9th November 2009.
Three to four Celebrity Questions will be featured each week on Millionaire and will be 'mid-level' in monetary value. Other celebrities who will be featured this season include Kathryn Morris (Cold Case), Rob Morrow (Numb3rs), Tim Gunn (Project Runway), Kathy Griffin, Regis Philbin (LIVE! with Regis and Kelly), Jo Frost (Supernanny), Mario Lopez (Extra), Larry King, Elizabeth Vargas (ABC News), Al Roker (Today Show), Donald Trump (Celebrity Apprentice), Emily Procter (CSI Miami), Joy Behar (The View and The Joy Behar Show), Pauley Perrette (NCIS) and Gilles Marini (Brothers & Sisters), among others.
Read the full press release here at Reuters.  It's reproduced in full after the jump.
Continue reading »