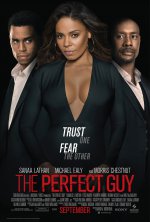 By the end of November The Perfect Guy's box office take had risen to around $60m, five times the reported production budget.  The DVD/Blu-ray sales, due to start just after Xmas, can only help push it higher.
That sort of success is bound to attract attention to all those involved.
The film will have garnered a bit more interest yesterday (8th December) when the National Association For The Advancement Of Colored People (NAACP) announced the nominees for the 47th running of its annual Image Awards.
The NAACP has put forward both The Perfect Guy leads for awards.  Sanaa Lathan and Michael Ealy appear in their respective Outstanding Actor/Actress category.  Michael is up against the likes of Chiwetel Ejiofor (12 Years A Slave) and Will Smith (Men In Black).  Sanaa is vying with Viola Davis (How to Get Away with Murder) and Zoe Saldana (Avatar) amongst others.
Their co-star Morris Chestnut has missed out on actor or supporting actor in film nominations but gets one for acting in the TV series Rosewood.
For obvious reasons Kathryn does not figure, and was no doubt not even considered, for the supporting category.
The film itself is not in the shortlist of five films up for Outstanding Motion Picture.
The awards ceremony is due to take place on the 5th of February 2016.  Good luck to all the nominees.