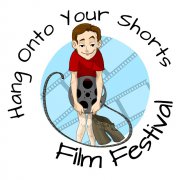 I'm not writing 'trumps', the word has lost all comic value.
The Coin continues to prove itself a long-term short.  It's still pulling in further garlands after four years on the festival circuit.
At the Hang Onto Your Shorts Film Festival on Sunday (24th April 2016) Fabien Martorell won 'Best Director Medium' (presumably that means The Coin is classed as a not-so-short) for his work.
Congratulations to Fabien and the team for taking another award.
Christopher Lloyd (Back To The Future) was nominated in the 'Best Actor Medium' (again a reference to the film length and not the TV show or the actor's height) category.  Kathryn was cruelly overlooked in the similar section for Actresses.  She did some top quality shouting.
The film was also up for the contradictorily named 'Best Short Medium' and 'Best Concept'.  I guess it came up… short in those  😉