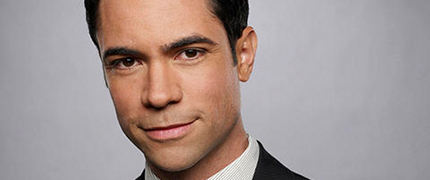 Throw the summer holidays on top of 'everything else' that's going on in 2020 and it is not surprising that showbiz news is a little lacking.  The difficulties of making the normal shows for the autumn/fall season will soon start to be very noticeable to everyone.  We do, however, still have some news for our regular monthly Cold Case Cast Catch-ups so let's go with that.
For the second month running we are going to start with Danny Pino (Scotty Valens in CC).  In the past few days it has been announced that Danny has joined the cast of a film called Dear Evan Hansen.  This is the movie adaptation of a very successful (Tony and Grammy award winning!) musical.  Ben Platt (The Politician) was the star of the Broadway stage production and will take on the same role for the film.  Amy Adams (Arrival) and Kaitlyn Dever (Last Man Standing) are set co-star in the big screen version.  The story is about a teenager who kills himself and the repercussions on his friend Evan (Platt) as result of his behaviour.  Amy is the dead boy's mother.  Danny will be Amy's husband, who did not feature in the stage show, and step-father to her two children (Platt and Dever).  Benj Pasek and Justin Paul, the team behind La La Land, will be doing music and lyrics for the film.  It is still early days for this project so it will be awhile before we get any idea of release dates.
While reading up on Dear Evan Hansen it came to light that Danny also has a film coming out in October.  This is not something that we've previously reported on here, it managed to pass us by.  Anyway, the film is called Fatale and stars Hilary Swank (Million Dollar Baby), Michael Ealy (The Perfect Guy) and Mike Colter (Luke Cage).  I think The Perfect Guy might be a good comparison in terms of vibe for Fatale, but with Ealy as a man caught up in scheme by a dodgy copper (Swank).  The film already has a bit of history with it really starting two years ago and being purchased for distribution one year ago.  After several delays (y'know, because of 'the thing') it is currently set for release at the end of October in the US.  That could easily change.
Normally I rely on Tracie Thoms (Kat Miller in CC) to help fill these posts.  For once I think she has let me down.  We stil love you Tracie!  But, I did find that at the beginning of August she appeared as a guest on a YouTube-based channel called Stars In The House.  With the complete shutdown of theatres across the world the channel was created to support The Actors Fund charity.  In a regular Monday night slot Andréa Burns (Blue Bloods) interviews various stars of the stage.  Here we are on the last Monday of the month.  Back on the first Monday of August, Andréa hosted Tracie and the wonderful Helen Hunt (Twister) for an hour-long chat.  Sounds good to me!  Watch it HERE.
Just to pad this article out a little more we'll drop in a quick bit of news on the Veena Sud (writer/producer on Cold Case) series The Stranger.  It was created as a series of very short episodes for the online streaming platform Quibi but was shown on a big screen recently.  Last week a suitably 'current situation compliant' drive-in movie theater was set up in Glendale, California, and all 13, sub-ten minute long episodes played as a feature film.  Veena also did a Q&A session afterwards.