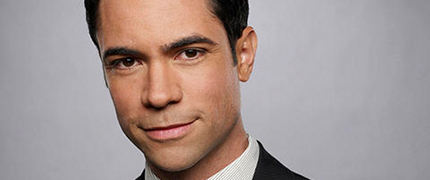 What better way to end the year than a quick round-up of new in the careers of the main Cold Case cast from December.  Here on KM UK we call it the CCCC-up.  For obvious reasons Kathryn is excluded.
Not for the first time news has broken on one of our CC alumni just after a CCCC-up was posted.  Sure enough within hours of our November item it was announced that Danny Pino (Scotty Valens in CC) will be returning to the CBS network, after a four season stint on NBC for Law & Order: Special Victims Unit.  The creators of the hit series The Good Wife have a comedy thriller in the works called BrainDead and starring Mary Elizabeth Winstead (The Returned).  It is set in the political world Washington, D.C.  Intriguingly, apparently it includes a zombie and aliens element.  Congressmen and other staff have had their brains eaten by aliens.  Brainless politicians…  Surely the jokes pretty much write themselves at this point?  Danny will be Mary's brother, a Senator from Maryland.  BrainDead is due to air next summer.
A CCCC-up is not complete without a mention of Tracie Thoms (Kat Miller in CC).  She always gives us something to post about.  Back in the summer (it seems so long ago now) we reported on a movie Tracie was starring in called Equity.  It has been scheduled to have its world première at the Sundance Film Festival which takes place towards the end of January.  Following on from August's update about the Tracie-led web series Send Me there is news.  The plan is for the series to be premièred in February, which is Black History Month.  Send Me is about a woman (Tracie) who has the power to transport people back in time to the era of slavery in America.