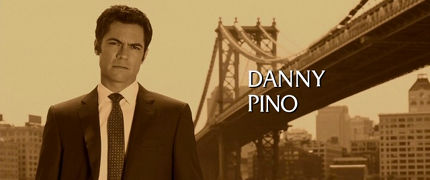 It's time for the latest CCCC-up, our end-of-month look at the on-going careers of the cast of Cold Case.
In July I made some bold statements about Danny Pino's (Scotty Valance in CC) future regarding the Imagen Awards.  I'm pleased to say that I have been proved correct once again (it doesn't often happen, note the date!).  Yes, a month ago I claimed the awards that recognise the work of those from the Latino community in the media would be happening on the 21st of August.  Also, I asserted that Danny was nominated for an award.  And, lo, it came to pass that KM UK was shown to be a teller of truth.  A truth peddler be I!  Enough!  The awards happened and Danny won in his category of Best Supporting Actor: Television.  The show he was in, Law & Order: SVU, won the gong for Best Primetime Television Series: Drama.  Congratulations to Danny and all those involved in SVU.
Thinking it had been lost in the desert I'd pretty much given up on Death Valley, a drama film starring Katrina Law (Arrow), Lochlyn Munro (True Justice), Victoria Pratt (Mutant X), Kelly Hu (Arrow) and Jeremy Ratchford (Nick Vera in CC).  Over the past couple of years I've been vaguely tracking the movie.  There have a few festival showings and… well… that was about it.  In the past week or so things have turned around significantly.  The film, about four friends who find themselves in a spot of bother in the aptly named area in eastern California, will now receiving a more general release in US cinemas on October 23rd.  It may not be in every multiplex but it should possible to track down a showing in your area of America (assuming you have an area that is).
Each month Tracie Thoms (Kat Miller on CC) manages to inject something into the CCCC-up.  The lady is just soooo busy.  This time out it's called Injection.  A drama short about a family dealing with cancer and the appearance at the door of a possible cure.  Not sure of Tracie's role in the piece yet other than her character's name: Sarah Wenscombe.  Tracie doesn't seem like a Wenscombe to me, but she's a good actress so I'm sure she'll pull it off.  We can be a little more certain about Tracie and the webseries Send Me.  The drama is about an academic, Gwen (Tracie), with ability to send other African Americans back to the times of slavery in the US, and much of the world.  Earlier this month a couple of trailers for the project were released.  Follow through from the official website HERE to YouTube and you can find a load of behind the scenes videos.  I've not seen a specific date mentioned for the series release yet.
Back in the March CCCC-up I reported on John Finn (John Stillman in CC) had a role in a new drama series pilot called Doubt.  Since then, to say the least there has been a lot of doubt about Doubt.  The pilot clearly didn't float the boat of those in the position to make the decision so a series was not commissioned from it.  However, the project was kept alive and there has been a lot of re-writing and re-casting going on the past few months.  KaDee Strickland (Private Practice) was to be the lead but she has been replaced by Katherine Heigl (Grey's Anatomy).  Steven Pasquale (Rescue Me) steps in for Masters Of Sex star Teddy Sears, who has moved to The Flash.  Others, such as Laverne Cox (Orange Is The New Black), Dulé Hill (Psych), and Dreama Walker (Gossip Girl) are said to still be involved.  Whether John is or not we'll just have to wait and see.
A few hours after posting last month's CCCC-up the news broke that American wrestler "Rowdy" Roddy Piper passed away.  We'd only just mentioned the death of author Ann Rule.  Roddy, appropriately enough, starred in the season 7 wrestling-themed Cold Case episode One Fall.  A week later the actor Terrence Evans, he was the present day/older Lester Hughes in Daniella from season two, also died.  Our condolences to their families and friends.