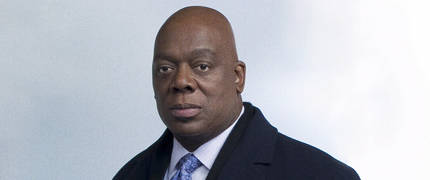 It is very nearly a new month so it can only mean one thing here on KM UK: another edition of our monthly looks at the on-going careers of the non-Kathryn members of the Cold Case cast.  Your CCCC-up for March 2015 is served.
After a few months of mentioning it and what felt like longer waiting for it Thom Barry (Will Jeffries in CC) finally made his appearance in the now cancelled TNT drama series Perception.  When the news first broke on Thom's role as an FBI field officer it looked like it would be recurring across a few episodes in the short closing run.  Sadly, Thom did not appear until the very last episode, regardless of what IMDb is saying at the moment.  Worst still it was all too brief.  I can only assume the intention was for it to be greater but it was, for some reason, cut.  How long will it be until we next get to talk about the big man?
Another of our less regular regulars is John Finn (John Stillman in CC).  We have another chance to talk about him today.  John has been cast in a pilot for possible new CBS drama series called Doubt.  No… doubt (see what I did there?) it will be in the running for a slot in the upcoming autumn/fall schedules.  IMDb has it listed a TV movie, which they often do for 1 hour pilot episodes like this.  You'll remember The Surgeon General which Kathryn had a role in and never made it to series.  It is still characterised as a TV movie despite never airing.  Anyway, Doubt stars KaDee Strickland (Private Practice) as a defence lawyer.  In the pilot she gets 'romantically involved' (code for 'doing it', which itself is code for…) with her client, a man charged with the murder of a girl some years before.  I can't imagine that will be happening every week though.  They are throwing the proverbial book at this show with Laverne Cox (Orange Is The New Black), Dreama Walker (Don't Trust The B—- In Appartment 23), Dulé Hill (Psych), and Teddy Sears (Masters Of Sex) amongst those cast.  All we know about John's role is it is a character called Don.  It could be a regular character or unique to the pilot.  We don't know yet.  Since the last CCCC-up John apparently had a two-episode role in the TV series The Blacklist, which stars James Spader (Boston Legal) as a master criminal who, after years of evading the authorities, suddenly turns himself over the FBI and offers to help catch others like him.  'Judge Richard Renner' (John) made his appearances in episodes earlier this month.
We can usually rely on Tracie Thoms (Kat Miller on CC) to help fill up a CCCC-up, often all on her own, but this time it was only a late entry that gets her mentioned.  Unbeknownst to me Tracie starred in a horror short last year that received a brief online-only release during Halloween.  It was one of a set of 31 films for the DreadCentral, Collider and BloodyDisgusting websites under the title Fun Size Horror.  Remember kids: fun is not a size.  Tracie played 'Karen' in a segment called The Collection.  May will see 21 of the films released via VOD services in what should probably be called an anthology titled Fun Size Horror: Volume One.  Plans are already under way for a new set of short films for Halloween 2015.  Be afraid, very afraid.