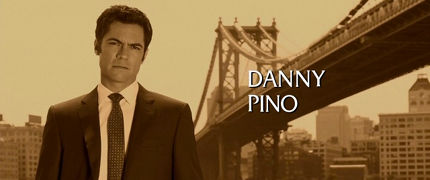 Everyone loves a bit more Pino.
Our final round-up of news about Cold Case cast members that aren't Kathryn for 2012.
The long-running TV show Law & Order: Special Victims Unit has had its current season extended by 2 episodes, bringing it to a total of 24.  That's either a good show of support or a chance for the writers to give it a proper ending.  Which theory you subscribe to depends on your point of view.  Our understanding is that despite weak "lead ins" (i.e. the show on before SVU has a low audience count to carry over into SVU) the cop drama continues to do OK.  It is gradually fading but it is hardly surprising as the show is currently in its 14th year.  Danny Pino (Scotty Valens in Cold Case) continues as Detective Amero in SVU.  There are no signs of Danny taking on other film or television roles at the moment.
Last month's CCCC-up included a reference to John Finn's guest-starring role in the hit drama series Homeland.  At the time the episode was just a few days away from broadcast in the UK, having been shown in the US just a few days before that report.  The part was not particularly large and the character of Rex Henning has not re-appeared in the episodes since.  John's next feature film The Lifeguard by Cold Case writer/producer Liz Garcia is due to début at Sundance 2013.  The film festival runs from January 17th to the 27th.
We seem to have been talking about Thom Barry's role in the new Texas Chainsaw 3D movie for a very long time.  It was first reported here back in July 2011.  Back then the planned release date was October.  In early summer it was pushed back to January 2013, probably to avoid clashing with the many big releases in the autumn.  Now we are in the home straight, with just a few weeks to go for much of the world.
A couple of Thom's co-stars in Texas Chainsaw 3D have caught our eye:  Tania Raymonde (Lost) and Richard Riehle (Office Space).  Tania guest starred on Cold Case for eight episodes in the latter half of season 6 as a PPD lab tech that Scotty became involved with.  Richard (the hardest working man in Hollywood) will be seen very soon in the film 2 Br/1 Ba, in which Kathryn has a small but pivotal role.
If you have any news about any of the Cold Case main cast then please let us know.