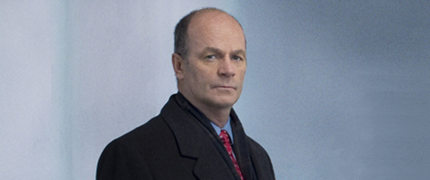 Since doing a piece like this on Thom Barry (Will Jeffries on Cold Case) last month I've been hoping to do a follow up about what the two remaining major Cold Case cast members (John Finn and Jeremy Ratchford) have been up/will be doing.  There has been very little news on either.  John has been in the public eye even less than Kathryn!
So, to see John Finn (John Stillman on Cold Case) guest star in the most recent episode of one the biggest TV shows in America was a surprise.  No, not X Factor!  Playing a very senior member of the Naval service, a General I think, John got to encourage NCIS Special Agent Leroy Jethro Gibbs (Mark Harmon) to pull out all the stops in solving the case of a female Lieutenant missing in Iraq.  The way certain characters were behaving suggests there is more to this meets the eye so far.  I say 'so far' because it is not over yet.  Will the team find the missing Marine?  Is John's General really the good guy he appears to be?  Find out next week in the thrilling instalment of this two-part story.
Mark Harmon has had the pleasure of working with Kathryn twice in his career.  The first time was in the TV movie Long Road Home, the first role for "Kathy".  The second was the TV movie And Never Let Her Go, based on the real story of murder victim Anne Marie Fahey.
As I said, there's been no other news on John's future work, at least not that I've found.  If you can prove me wrong please you the Contact form to let me know.