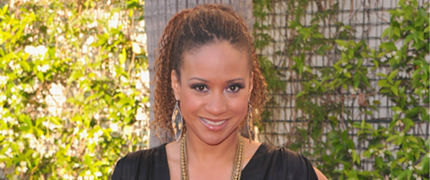 Predictably enough this is going to be a round-up of round-ups, with anything new we can find added as well of course.  Let us take a look at the careers of the wider Cold Case cast in 2016,
It is almost a cliché that Tracie Thoms (Kat Miller in CC) goes first.  It would be wrong not to though most of the time.  She makes the word prolific look like it isn't trying hard enough.  Tracey featured in every one of these CCCC-ups in 2016.  There has been films (both short and long) and series (TV and web-based), as well as stage shows and one-woman events.  There are 18 items alone in Tracie's IMDb actress category with '2016' against them.  Some of them won't be seen until next year.  Some the 2015 dated items crossed over in to this year.  It is hard to keep track of them all but I tried.
The most obvious to mention about are Tracie's guest starring roles in various TV shows.  Netflix dramedy Love, Hulu-bound The Mindy Project, and CBS's BrainDead (more on that later) all benefited from her presence.  Tracie was a regular in Love and had single episode roles in the other two.
Film-wise there was Equity (female-led drama set around high-finance) and The Watcher, which after a lengthy post-production period fetched up on the Lifetime network and then Netflix.  Horror flick The Basement starring Mischa Barton (remember her?) is a notable entry for next year.  No doubt there will be plenty more besides that.
Currently Tracie is appearing in the Falsettos musical, a sound-track CD was recently released for those unable to attend in person, and is gearing up for a couple of nights in her one-woman show in mid-January when the run ends.
As Lilly's partner in anti-crime Danny Pino (Scotty Valens in CC) is probably the next most recognised character from CBS's Cold Case so we'll look at his 2016 next.  After CC Danny fetched up in another cop drama, this time NBC's Law & Order: Special Victims Unit.  He did three seasons as Nick Amaro until they just decided the role should end.  2016 saw Danny 'do a Tracie' by having a recurring guest starring role in ABC's Scandal.  He was really doing the network rounds.  Scandal is set in the world of politics and Danny's Alex Vargas was a campaign manager involved in four episodes towards the end of the show's 5th season.
Danny then returned to CBS and crossed the swamp to head the sci-fi-ish-comedy-drama BrainDead.  This time as Luke Healy, a not entirely honourable Senator from a family with political history.  The show told of an alien parasite taking control of leading political figures.  Luckily it is all fiction.  Politicians could never become mindless idiots with no thought for their electorate… It was a funny, clever, and entertaining show so of course it was cancelled after just one short (13 episodes) season.  It was worth watching for the opening titles which combined the 'previously on…' element with a humorous song.  Look out for Danny's co-star the great Mary Elizabeth Winstead (10 Cloverfield Lane) in the upcoming 3rd season of Fargo.
There is no word yet on any upcoming projects for Danny to take us into 2017.
Heading back to the top in CC squad seniority stakes brings us to John Finn (John Stillman in CC).  2016 primarily consisted of a couple of guest starring roles in TV dramas Elementary (the US Sherlock show) and The Good Wife (which ended in the summer).  Unlike network hopper Danny all these shows have been on CBS.  Nearly on CBS in 2016 was another drama called Doubt.  After various re-thinks they've finally decided air the legal drama Doubt from mid-February 2017.  What is still very much in doubt is John's presence in the show.  He was one of the original cast members, albeit in a likely small role, but the show has undergone significant changes since then with no further mention of John.  However, a couple of weeks ago a lengthy promo video was released and John appeared very briefly towards the end.  There is still a possibility that the footage used was from the first pilot and won't be broadcast so we're none the wiser.  Doubt stars Katherine Heigl (Grey's Anatomy), Dulé Hill (Psych) and Laverne Cox (OITNB).
Mr Finn also has a couple of films lined up for release in 2017.  Gifted (Chris Evans and Jenny Slate) and Finding Steve McQueen (Forest Whitaker and Rachael Taylor).  Gifted is about a man bringing up his young niece who turns out to be genius.  John's role was not clear previously but a recent trailer shows him as a lawyer in a custody battle over the girl.  It all looks very heart warming and life affirming.  Release date is set for April.  Finding Steve McQueen does not appear to involve Steve McQueen.  Instead it is about a group of bank robbers in the 1970s who steal $30m of apparently illegal contributions to Nixon's political campaign.  John is FBI Deputy Director W Mark Felt.  This is all based on real events.
Covering Thom Barry (Will Jeffries in CC) in 2016 was easy because there was little to it.  The much delayed Eddie Murphy vehicle Mr Church finally hit cinemas in September.  It didn't hit very hard and limped along to some very small box office takings.  Thom's role was small.
Thom's short film Casting got longer but not released.  2017 is possible.  Another project Phoenix 454 was announced but little more heard since.  Thom's role does look more significant in this one.
Which leaves us with everybody's favourite (unless you prefer one of the others) Jeremy Ratchford (Nick Vera on CC).  We didn't manage to squeeze much wordage from Jeremy's career in 2016 either.  Like most of the rest of the CC cast Jeremy did have some small guest starring roles though.  Back in March it was on the comedy Workaholics.  In November it was in cop drama Chicago P.D.  There is a film on the horizon called Small Time Crime that is currently in the no-man's-land of 'post production'.  It may see a 2017 release.
That's it for the main cast but we do occasionally stretch our remit to include other significant figures connected with Cold Case.  Chief amongst those are creator Meredith Stiehm and writer/producer Veena Sud.
Veena Sud had a movie she wrote and directed released in 2016.  It was called The Salton Sea and involved a woman (Jamie Anne Allman, The Killing) blackmailed by a hitchhiker (Diarra Kilpatrick, Private Practice) over a possible hit-and-run.  More recently it was announced that Veena would be taking the producer/writer reins again on a new Netflix drama called Seven Seconds.  It is based on a Russian movie of all things about a senior police officer involved in the death of a child.  Regina King (Southland) recently joined the cast.  No news yet on a release date for the 10 episode drama.
Happy New Year to everyone connected to Cold Case.