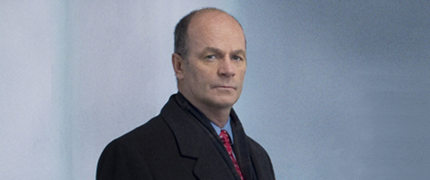 Make way for May 2017's Cold Case Cast Catch-up.  News of the careers of the other major Cold Case actors must be heard.
Let us begin with John Finn (John Stillman in CC).  John (there's been a lot of John in this post already!) has found himself in a film called Bent.  It's a thriller about a jailed police officer (framed of course) out for revenge on those that helped put him away, who gets caught up in solving a connected murder.  Karl Urban (Dredd) leads the impressive cast, with Sofia Vergara (Modern Family), and Andy Garcia (The Untouchables).  John is currently listed as playing 'Driscoll', which doesn't give too many clues as to the nature of the character.  No release date yet.
If you were to walk into a room that contained a certain Jeremy Ratchford (Nick Vera in CC) and shout "Is there a certain Jeremy Ratchford here?" he might very well run away.  Or, he might reply in a rather affected tone "I am that man."  If he did it would help me out greatly in linking to this next item.  I Am That Man is a movie returned to our revenge theme.  It is the directorial debut of British actor Matthew Marsden.  He's had quite a career already having had short stints in two of the UK's biggest soap operas (Coronation Street and Emerdale) and gone on to star in some major American films (Black Hawk Down, Rambo (2008)) and TV (NCIS, Castle, Two And A Half Men).  And, he was in Anacondas: The Hunt For The Blood Orchid with a certain special someone's special someone.  Not being a complete fool (he is British after all) Matthew has cast himself in the lead role.  Alongside him are Christine Lakin (Family Guy), presumably as his wife, and Jeremy as Mike Spence.  Filming only started early in May so we probably have a bit of a wait for a release.
Tracie Thoms (Kat Miller in CC) returned to the small screen in America just the other day in the Starz network's new drama/sci-fi/fantasy series American Gods.  It is available via Amazon Prime in some other countries.  They are throwing the proverbial kitchen sink at this one.  Lots of big special effects, big imagery, and big names in the acting world.  Relatively unknown Ricky Whittle (another Brit, Hollyoaks) is the latest ex-con in this post who, on his way to his wife's funeral, meets Ian McShane's Mr Wednesday.  Things take a turn for Ricky's 'Shadow Moon'.  That big name cast includes one of the hardest working actors today Gillian Anderson (The X-Files), Crispin Glover (Back To The Future), Emily Browning (Sucker Punch) and Pablo Schreiber (The Brink), Peter Stormare (Fargo), and Cloris Leachman (Young Frankenstein), to name just a few.  Tracie starred as a police detective (don't know where they got that idea from!) in 'Lemon Scented You', the fifth episode of the 10 part run.
In other Tracie news the Broadway musical Falsettos that she appeared in has been nominated for several Tony Awards.  The Oscars of the theatre, the Tony Awards 2017 ceremony is due in a couple of weeks time.  It has already won several awards and is nominated for more.  Break a leg!