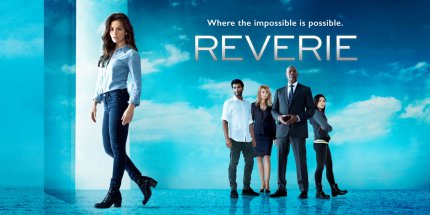 Reverie season 1, episode 3: "No More Mr Nice Guy"
Official Press Release:
06/13/2018 (10:00PM – 11:00PM) (Wednesday) : A family man robs banks in his Reverie and Mara (Sarah Shahi) must uncover the deeper reasons why. Mara's derealizations put her life in danger. Dennis Haysbert, Sendhil Ramamurthy, Kathryn Morris and Jessica Lu also star.
Update (7th June):  For completeness I've added a short clip for this episode which was broadcast after episode two in the usual 'next week on…' slot.  The video is only 3o seconds long and has the credits running over it but it gives you some idea of content of this one.  No Kathryn.
Update 2 (8th June):  A couple more video clips from 'No More Mr Nice Guy' have been added.  The first focuses on Mara (Sarah) and her 'derealizations' (hallucinations outside the VR environment) and the second on Paul's (Sendhil) childhood issues.